Chat with your PowerPoint files
Ask any question about your PowerPoint slides
Upload a PowerPoint file today and let our AI generate summaries, answer questions or get actions items out of any presentation.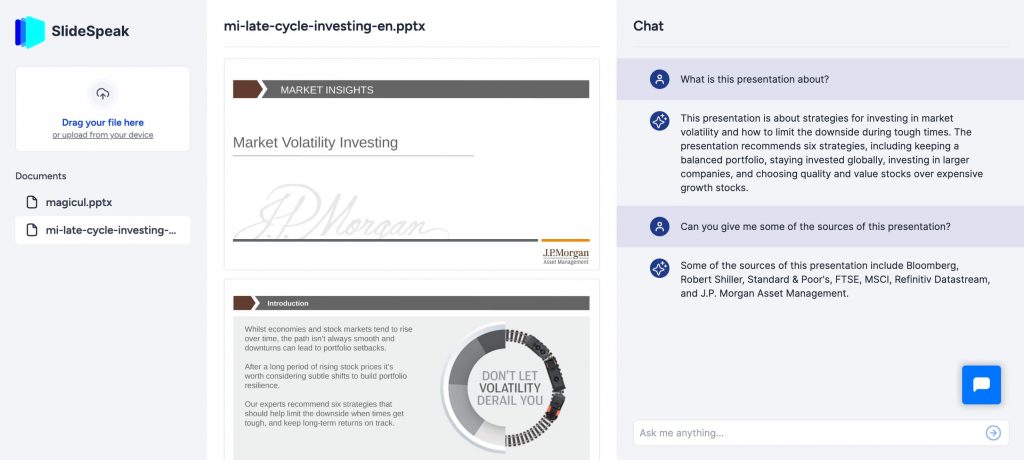 HOW IT WORKS
ChatGPT with your PowerPoint slides
Give our AI a document and watch the magic...
Simply upload your PPTX file, we will process the content with OpenAI. Powered by Llama Index.

Our AI engine is powered by ChatGPT and will answer any question about your PowerPoint slides within seconds.
As smooth as ChatGPT, but with your documents.
Upload your PowerPoint documents and ask questions about the content.
Things you might wonder...
Frequently Asked Questions
Yes, for now SlideSpeak is free. This might change in the future, but as of now you're more than welcome to use our platform free of charge. Enjoy!
How and where is my data stored?
All of our customer data is stored fully encrypted and is not shared with any 3rd party. Additionally we use the latest technology to make sure your data is protected. While using our service data might get submitted to OpenAI since we use OpenAI under the hood.
Can I ask questions about multiple documents?
This is a feature we're working on. Please send us a message over the support chat to join the waitlist.
Do you support other document types other than PowerPoint?
For now we only support PowerPoint files, but we are working on integrating other document types like PDF, Google Slides and much more. Stay tuned.
Newsletter
Stay up to date with our newsletter
Sign up today and get the latest news about our features.