FREE TOOLS
Compress PowerPoint files
Use our PowerPoint compressor to shrink the size of your PowerPoint file.
Compress PowerPoint files with 1 click​
Reduce the size of your PowerPoint files online with our FREE PowerPoint compressor. Easily compress PowerPoint files for email and more.
By using our compression tool you can reduce the size of your PowerPoint presentation by up to 90%.

Try it now, it's FREE.
Features
Why our PowerPoint Compressor?
Our free PowerPoint compressor is super fast and has almost no limitations. Used another compression tool with success? Try our tool!
Compress PowerPoints quickly
We use the latest technology to compress your PowerPoint presentation. Want to email a presentation and it's too big? We got you covered. Simply upload your file and we will reduce the file size by up to 90%.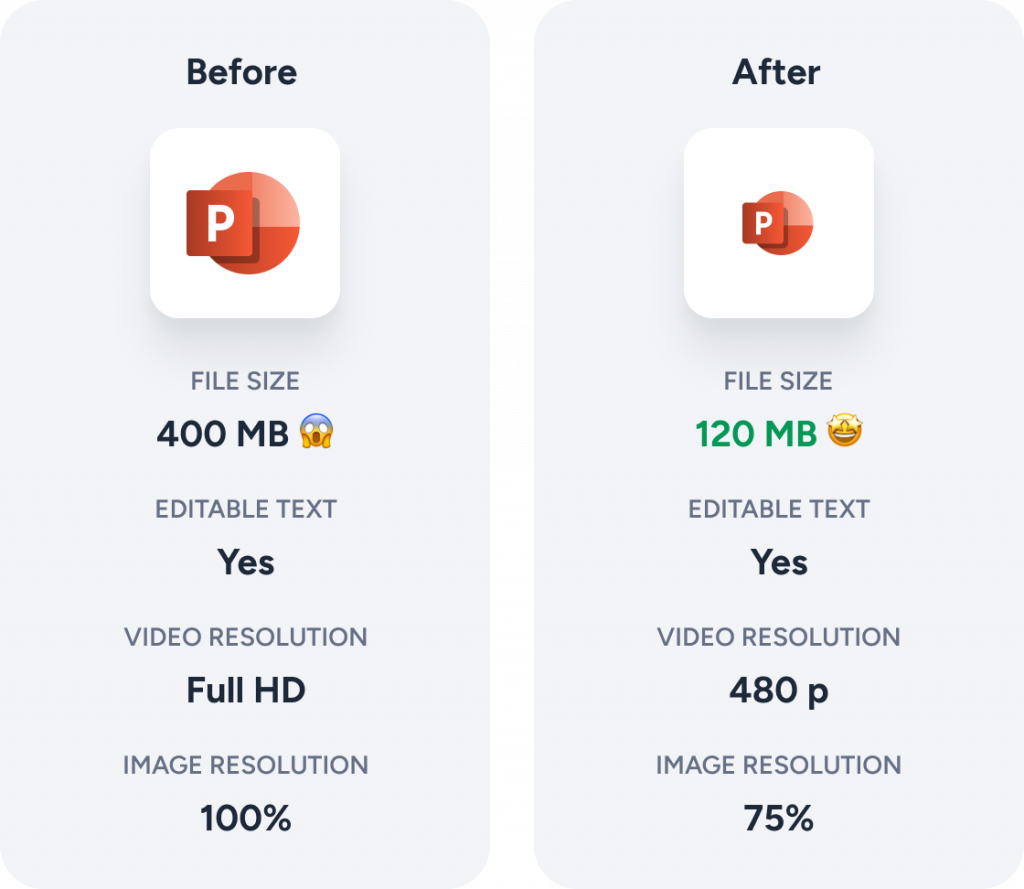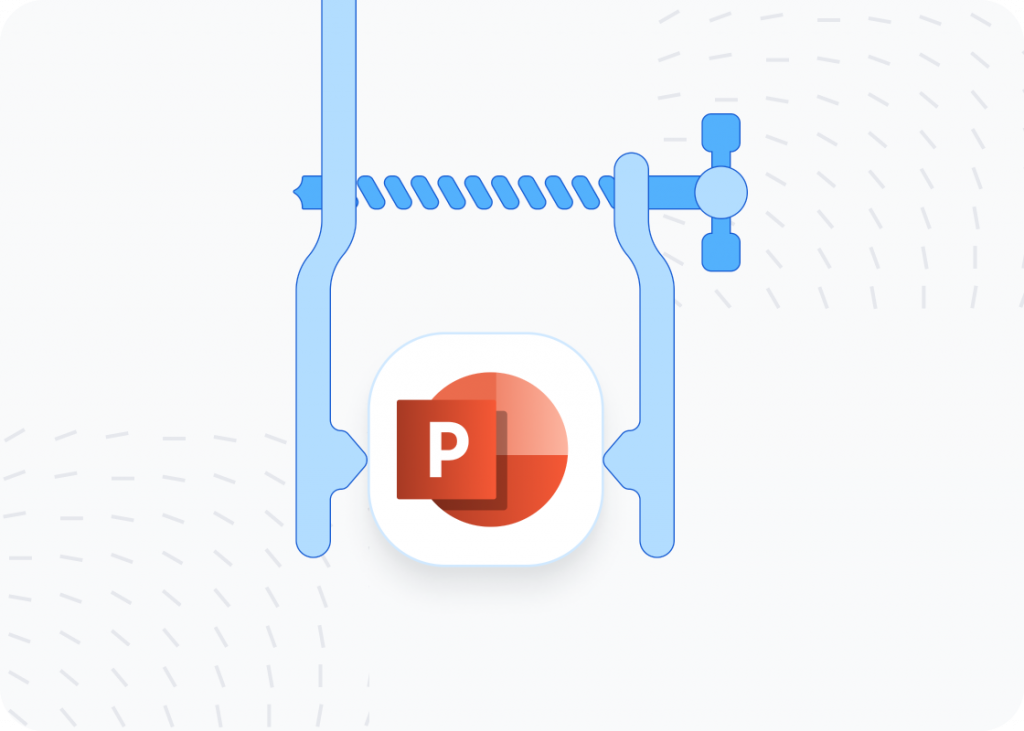 Secure Online PPT Compressor
SlideSpeak takes data security and privacy very seriously. That's why all PowerPoint presentations are stored fully encrypted. We never share any data with 3rd parties. You can take our word for it.
Questions about compressing PowerPoint
Frequently Asked Questions
How do I compress a PowerPoint file for email?
You need to use a tool to compress your PowerPoint file. In order to send a PowerPoint file via email it needs to be below a certain file size. This can vary depending on your email provider. Gmail for example has a file
limit of 25MB
when sending PowerPoint files. You can use SlideSpeak to compress your files. If your PowerPoint file is even after compressing more than 25MB in size, consider sharing it via Google Drive or Dropbox.
Why is my PowerPoint presentation so large?
There's many reasons. Often times PowerPoint presentations contain videos, high resolution images or custom fonts that can blow up the size of your PowerPoint file. Use a tool to compress your PowerPoint presentation. SlideSpeak for example allows you to remove videos, compress images and remove unused fonts in presentations in order to optimize the file size.
Why is my PowerPoint so slow?
When your PowerPoint file gets too large in size it can significantly slow down the PowerPoint interface. Consider using a tool to optimize your PowerPoint file.
Can you open a PowerPoint file if you don't have PowerPoint?
Yes, you can use an alternative tool like
LibreOffice
or
OpenOffice
to open PowerPoint files. Google Slides also supports importing PowerPoint files. We're currently also working on a tool to open and edit PowerPoint files, stay tuned on what's new by checking out our
SlideSpeak blog
.
Are my PowerPoint files handled securely and confidentially?
Yes, any PowerPoint file that gets uploaded to our website is store fully encrypted and not shared with any 3rd party. We also automatically delete PowerPoint files that have not been accessed for a while.
Can I generate a PowerPoint from a Word document with AI?
Yes, you can generate a PowerPoint presentation with AI using SlideSpeak. Simply head over to our
AI presentation
generator and give it a try.