Comments Off

on Can Chat GPT summarize a PDF?
Can Chat GPT summarize a PDF?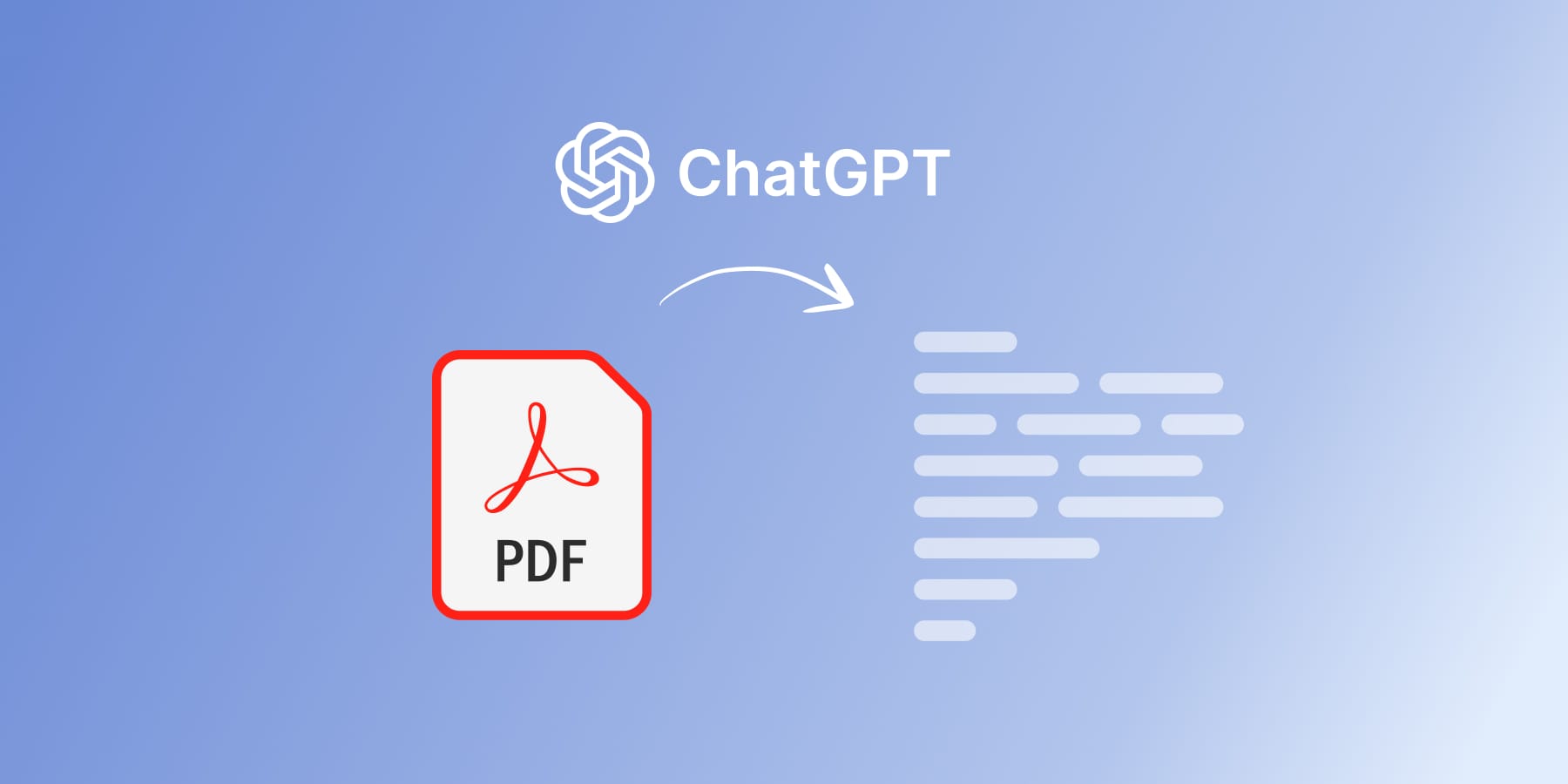 The quick answer is: Yes, but you have to copy the text into ChatGPT.
There's a few more nuances to it, so let's discuss this in a bit more detail.
Unfortunately there's not direct answer to "Can Chat GPT summarize a PDF", because you can't upload files to ChatGPT. But if you have long PDFs that you need to go through for work or research summarizing a PDF file would save you a lot of time. There's a few workarounds to make this happen. Sometimes its as easy as copying the text into ChatGPT and asking it to summarize the PDF. But if you have PDF files with images or text that isn't copyable, then it gets a bit more difficult. So let's have a look at this in a bit more detail.
How to Use ChatGPT for Summarizing PDFs
Here's a simplified step-by-step guide on how to use ChatGPT to summarize a (very long) PDF:
Step 1: Get Your PDF Ready
Find the digital version of your desired PDF. Make sure that the text is selectable and you can copy and paste it. This is really important since otherwise you will first have to find a tool to convert the PDF into text. Most likely this will be done by a OCR software tool.
Here's how you copy the text of your PDF on MacOS. The process works almost identical on Window.
Step 2: Open ChatGPT
Visit chat.openai.com and sign in. Note that you will achieve better results with the paid version of ChatGPT since it uses the GPT 4 model.
Step 3: Ask ChatGPT to write a summary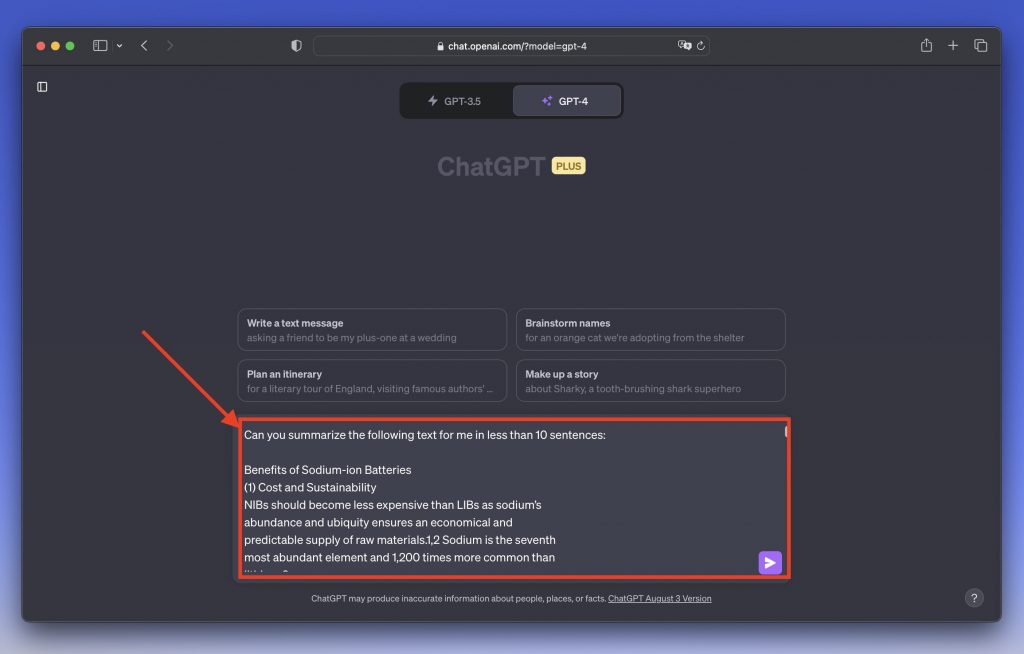 ChatGPT will now provide you with a summary for your PDF. If you feel like the summary is too short or is missing an important piece of information then you can follow up with a prompt like the following:
"The summary is too short can you extend it to 750 words"

ChatGPT Prompt to summarize with 750 words
"The summary is lacking information on the financial data of the company, can you add that"

ChatGPT Prompt that requests specific information
You can almost treat ChatGPT as a normal person, if you're not happy with the results simply give it some feedback.
Creating the Right Prompt for ChatGPT
When you're summarizing a PDF using ChatGPT its important to use the write prompt. Let's look a bit into which summarization prompts make the most sense and what pitfalls there are.
ChatGPT can produce very different results for a PDF summary depending on the prompt you use. Here are some tips when creating a prompt to summarize PDFs:
Length Matters: If you want a concise summary, guide ChatGPT on the desired length. Example: "Provide a summary of about 100 words."
Be Specific: If your PDF covers a broad topic and you're only interested in certain parts, direct ChatGPT accordingly. For instance, "Provide a summary on the financial aspects of the text below."
ChatGPT Limitations when Summarizing PDFs
While ChatGPT is great, it's still evolving. Here are some things to keep in mind when using ChatGPT to summarize a PDF:
Token Restrictions: The current version has a token limit which translates to a certain number of words. Most PDFs should fit, but hefty PDF documents might not work. In those cases as a workaround you can split the text in multiple parts and then use ChatGPT for each part to summarize the text.
Accuracy Concerns: ChatGPT can occasionally deliver answers that sound right but aren't. Always double-check.
The Oversimplification Trap: ChatGPT can sometimes skip over nuances. So, while it's great for quick insights, for critical tasks, you'd want to go through the entire material. Additionally we always recommend you to add a more specific prompt to make sure ChatGPT pays attention to details that matter to you.
Only Text is used to summarize: When you use ChatGPT to create a summary for your PDF then it can only use the text you've copied. Any graphics, diagrams, charts or other media content is unfortunately not going to be part of the summary.
Other AI tools to write a Summary for a PDF
1. SlideSpeak.co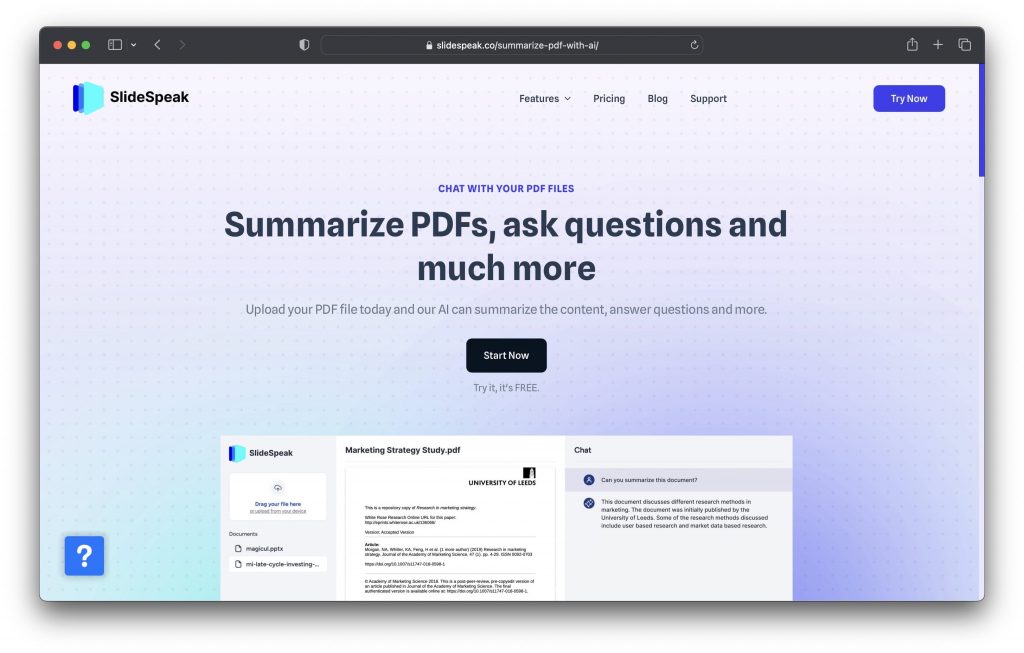 Website: https://slidespeak.co
Introduction: SlideSpeak.co offers a unique approach to summarize PDFs by allowing users to upload files, chat with them, and obtain a summary powered by ChatGPT. The interface is kept very simple to give users a ChatGPT-like feeling. You can simply upload your PDF, then you get a preview of your file and you can ask questions straight away. SlideSpeak also support Word and PowerPoint files.
Features:
Summarize PDFs: Users can upload their PDFs and get a summary.
Ask Questions: Ask any questions about the content of your PDF.
Rapid Results: Obtain answers about the uploaded PDF within seconds.
Document Types: Focused on PDFs, but SlideSpeak also supports to summarize PowerPoint and Word documents.
Pricing:
Free Plan: $0/month. Allows 1 file upload, unlimited questions, powered by ChatGPT 3.5, 50 MB file size limit, and offers a limited reply length.
Premium: $9/month. Offers up to 50 file uploads, no file size limit, longer reply lengths, and is powered by ChatGPT 4.
Premium Plus: $19/month. Suitable for power users, it offers unlimited file uploads, no file size limit, longer reply lengths, and is also powered by ChatGPT 4.
2. PDF.ai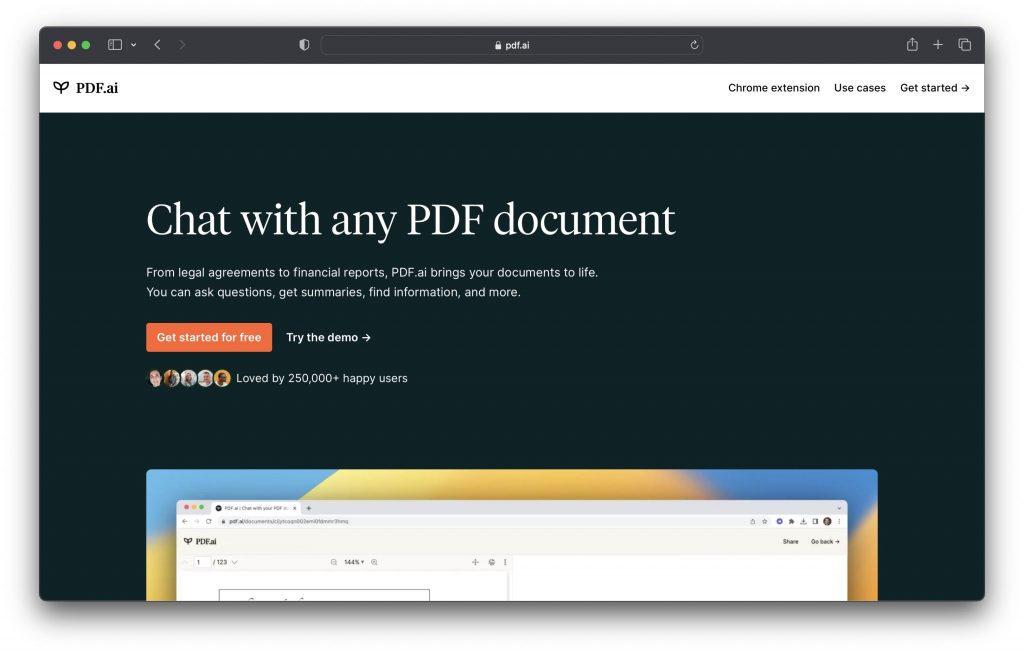 Website: https://pdf.ai
Introduction: PDF.ai is designed to bring PDFs to life. Making it easy to ask questions, generate summaries, and extract information from various documents.
Features:
Document Interaction: Easily upload and chat with your PDFs. Generate summaries and much more.
Instant Responses: Summarize, extract info, and get answers instantly.
Document Sourcing: Each AI-generated response from PDF.ai comes with a note on which page that information was concluded from. This is very very handy when you need to have references in place.
Broad Use Cases: Can be used for multiple document types including legal, financial, and books.
Pricing:
Premium: $15/month. Includes no page or daily upload limits, API access for non-commercial use, a Chrome extension, and extended reply lengths.
Enterprise: Starts at $50/month (plus additional costs per unit). It encompasses everything in the Premium plan, and is tailored for commercial API usage. They charge $0.10 for every upload and $0.05 for each chat message.
3. PDFPals.com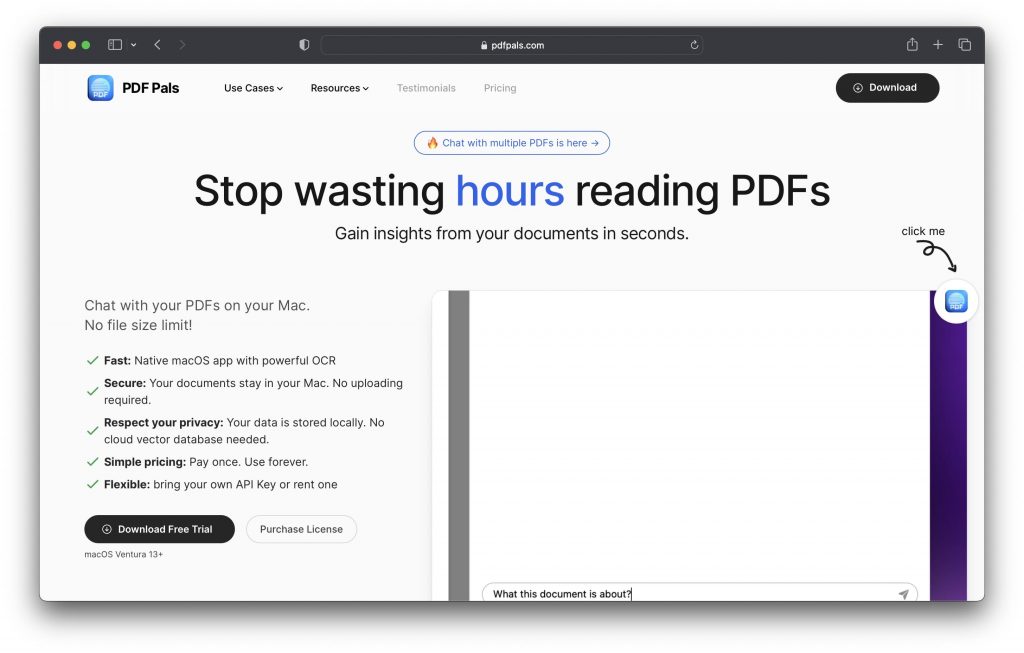 Website: https://pdfpals.com
Introduction: pdfpals.com caters to MacOS users by offering a native app solution to chat and summarize PDF files. The big benefit of PDFPals is that it runs locally, meaning you don't have to compromise on privacy.
Features:
MacOS Integration: Summarize and chat directly with your PDFs on MacOS.
OCR: Handles scanned PDFs and forms through its powerful OCR engine.
Privacy and Security: Ensures complete user privacy by processing all data on the local device without uploads.
API Flexibility: Compatible with several API providers, including OpenAI.
Pricing:
Personal: A one-time payment of $29 (discounted from $50). Designed for individual use on a single MacOS device, this includes all features and a year's worth of updates.
Standard: A one-time payment of $49 (discounted from $100). Intended for freelancers and small teams, it allows use on three MacOS devices, includes all features, and provides a year of updates.
Here's a quick recap on all the ChatGPT powered tools to summarize a PDF:
SlideSpeak.co offers a structured pricing model to cater to individual needs, making it great for users with varied requirements.
PDF.ai provides an extensive web-based platform suitable for both individual and enterprise requirements.
pdfpals.com is the go-to choice for MacOS users who prioritize local processing and data privacy.
FAQ
You might have a few questions on how to summarize a PDF with ChatGPT. We will dig into a few common questions in the next paragraph. Let's get started…
Can ChatGPT summarize PDFs in languages other than English?
Yes, ChatGPT has multilingual capabilities. However, the accuracy of summaries might vary depending on the language and the platform's specific implementation of ChatGPT.
How long does it take for ChatGPT to summarize a PDF file?
Typically, it only takes a few seconds. However, the time may vary depending on the length and complexity of the PDF file.
Are there file size limits PDFs when I summarize with ChatGPT?
File size limits vary by platform. Some platforms offer different plans with varying file size limits, so it's essential to check the specific tool's limitations.
What if my PDF contains images, charts, or graphs?
While ChatGPT is primarily designed for text, some platforms integrate Optical Character Recognition (OCR) technology to extract and process text from images, charts, or graphs within PDFs.
How to use ChatGPT to summarize a PDF document?
You can't directly use ChatGPT to summarize a PDF document. You can either use a 3rd party tool like SlideSpeak or simply copy & paste the text into ChatGPT and ask it to generate a summary for you.
We hope this article was helpful to you, if you have any other questions or comments feel free to leave a comment in the section below.