Comments Off

on Beautiful.ai vs. Gamma: Two tools to generate presentations with AI
Beautiful.ai vs. Gamma: Two tools to generate presentations with AI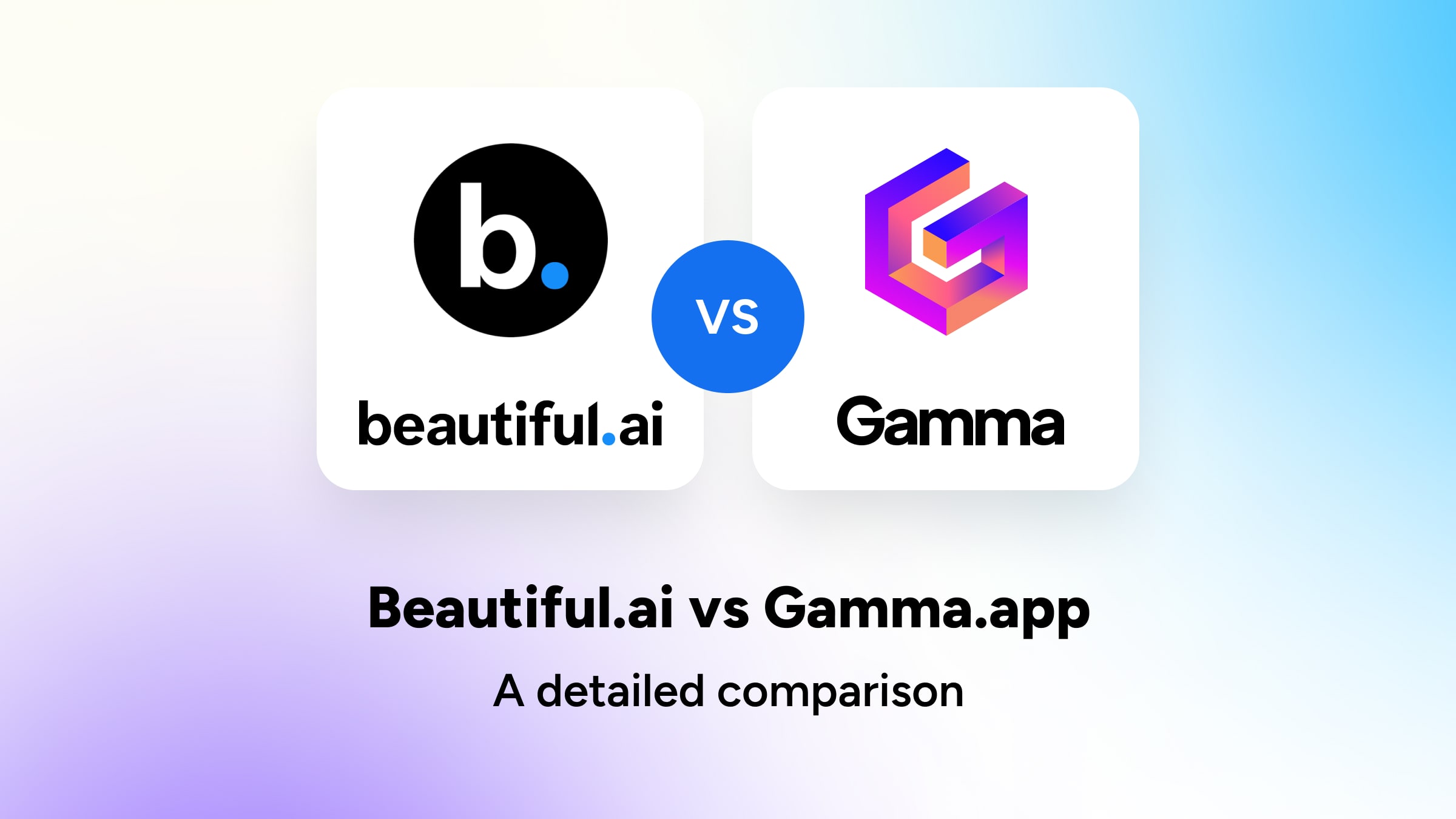 Creating stunning PowerPoint presentations quickly is crucial in the modern business world. But not everyone has strong design skills or hours to spend perfecting animations in PowerPoint. This is where a tool to generate presentation with AI like Beautiful.ai and Gamma.app come into play.
These two platforms leverage AI and ChatGPT to design presentations fast, easy and make the whole process more fun. They take different approaches to empowering users to produce professional decks effortlessly. Today we'll have a look at how they differentiate. Because AI does not equal AI 😅.
We will compare the core features and use cases of Beautiful.ai and Gamma.app to help you determine the right tool to generate presentations with AI.
SlideSpeak is also working on an AI tool to generate presentations, stay tuned about our latest features here: https://slidespeak.co
Let's start with a few general tips on generating presentations with AI:
AI-powered presentation software promises to make creating stunning decks easy and fast. But how exactly does the technology work behind the scenes to generate professional-looking slides for you? Interacting with an AI powered tool is quite different than dragging and dropping elements onto a Canvas.
General Tips to Generate Presentation with AI
1. Start With Your Core Topic and Story
First, you'll want to provide the AI with the basic information about your presentation topic and storyline. You can do this by:
Simply typing out a summary of your key points
Pasting in text from existing documents
Uploading PowerPoint files for the AI to analyze
This gives the AI a solid foundation of understanding of what you aim to present.
2. Select Preferences for Style, Tone and Branding
As with every AI tool, you need to give it very specific instructions on how it should behave. This includes giving it instructions in a prompt on what style of writing it should use. You can specify preferences like:
Design style (minimal, elegant, fun, etc.)
Tone (formal, casual, creative)
Brand colors, fonts and assets
This tells the AI how you want your generated presentation to look and feel.
3. Review and Refine the Initial Slides
The AI will generate an initial draft deck using your inputs. At this point, you can:
Make edits and tweaks easily
Refine the storyline and content
Customize design aspects
Iterating allows tailoring the auto-generated presentation to your needs.
4. Download or Share Your Generated Presentation
Once you're happy with the final slides, you can:
Export as PDF to present locally
Share a link for easy access
Present directly from the tool's live presentation mode
The AI does the heavy lifting, while you provide the story and direction. This makes creating professional presentations incredibly fast and frictionless compared to starting from scratch in PowerPoint.
Let's now look into two tools that AI generate presentations:
Comparison Beautiful.ai and Gamma.app
Before we dig into the details here's a quick overview of the features and the pricing:
Here is a comparison table of the key features and pricing for Gamma.app and Beautiful.ai:
| | | |
| --- | --- | --- |
| | Gamma.app | Beautiful.ai |
| 💻 Creation Method | Imports text/docs to generate decks | Templates and drag-and-drop editor |
| 🤖 AI Capabilities | Very Advanced | Limited |
| 🎨 Design Customization | Change themes and layouts | Modify templates easily |
| 🎮 Interactive Elements | Videos, GIFs, charts, embeds | Animations and transitions |
| 🗂️ Sharing & Export | Embed, PDF, PPT, live presentation | Share links, PPT export |
| 📈 Analytics | Engagement tracking | Viewer analytics |
| 👥 Team Collaboration | Live co-editing | Team workspace and permissions |
| 💰 Pricing – Individual | $8/month Plus plan | $12/month Pro plan |
| 🤑 Pricing – Team | $15/month Pro plan | $50/user/month Team plan |
Comparison for Gamma vs Beautiful.ai
Gamma.app Overview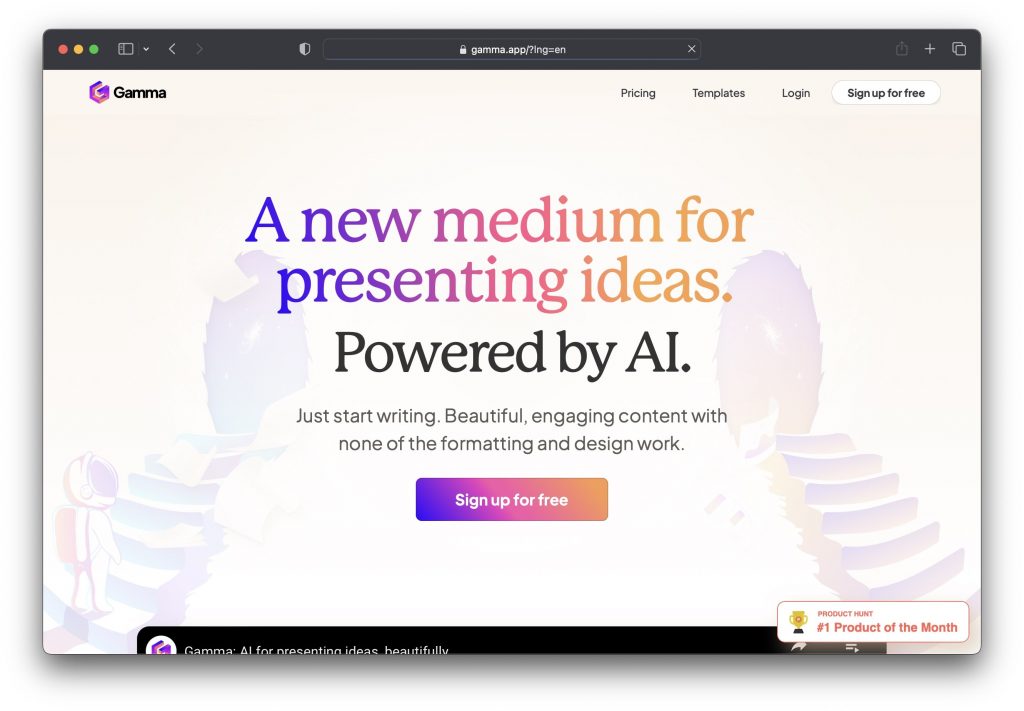 Gamma.app aims to provide a "new medium" for presenting ideas beyond traditional slides. Its AI turns text content into presentations automatically. When we first tried Gamma.app we were truly impressed. The AI generates a presentation on questions and prompts that you give it in a ChatGPT-like interface. This is amazing and speeds up the process of generating presentations by a lot. In general we felt like that this feels more like a true AI powered generation tool than Beautiful.ai.
Key features:
Generates presentations based on text instructions you give the AI
The AI generates the presentation on the fly and you can request changes via the interactive chat
Drag and drop editor to easily make changes
Modern, visually appealing designs
Support for interactive elements
Analytics for engagement tracking
Flexible sharing and live presenting
Ideal for: Individuals looking to turn content into visual presentations with minimal effort
And here's how you can generate a presentation with Gamma.app. In this example we will generate a presentation for an investor deck:
Generating an example presentation with Gamma
Step 1: Click on "Create new" and then select "Generate" to generate your PowerPoint presentation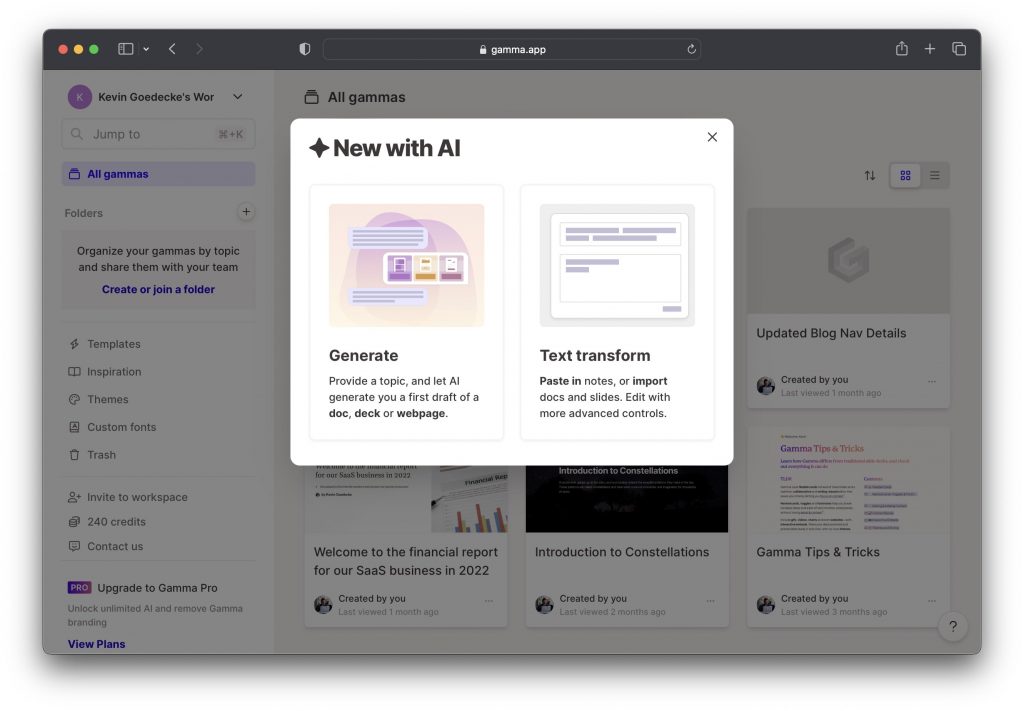 Step 2: Select "Presentation" and give the AI context about what your presentation will be about. In our example we gave it "Investor pitch deck for AI startup".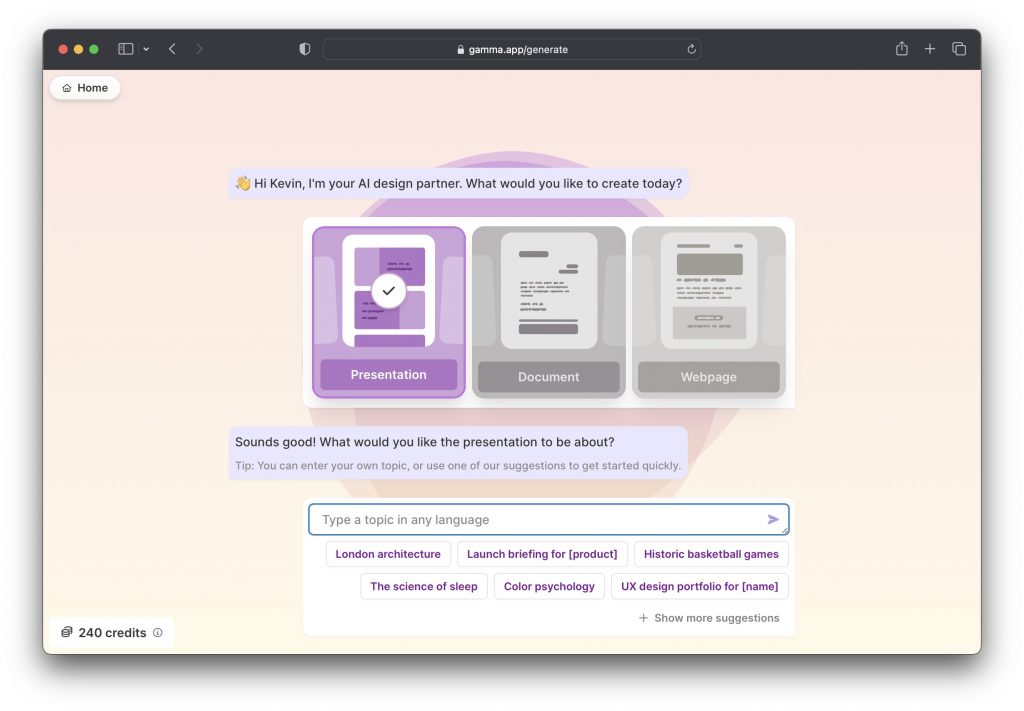 Step 3: Add key bullet points about the presentation, Gamma will already give you some suggestions on what you could add.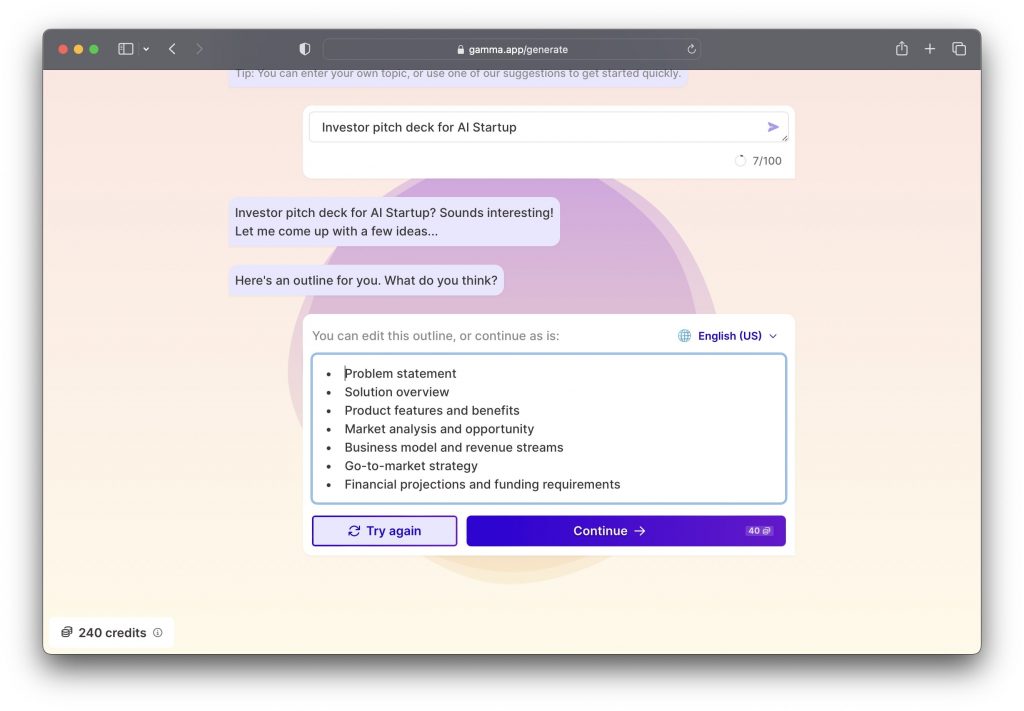 Step 4: Select the theme for your presentation. This is just the color theme and you can adjust this later.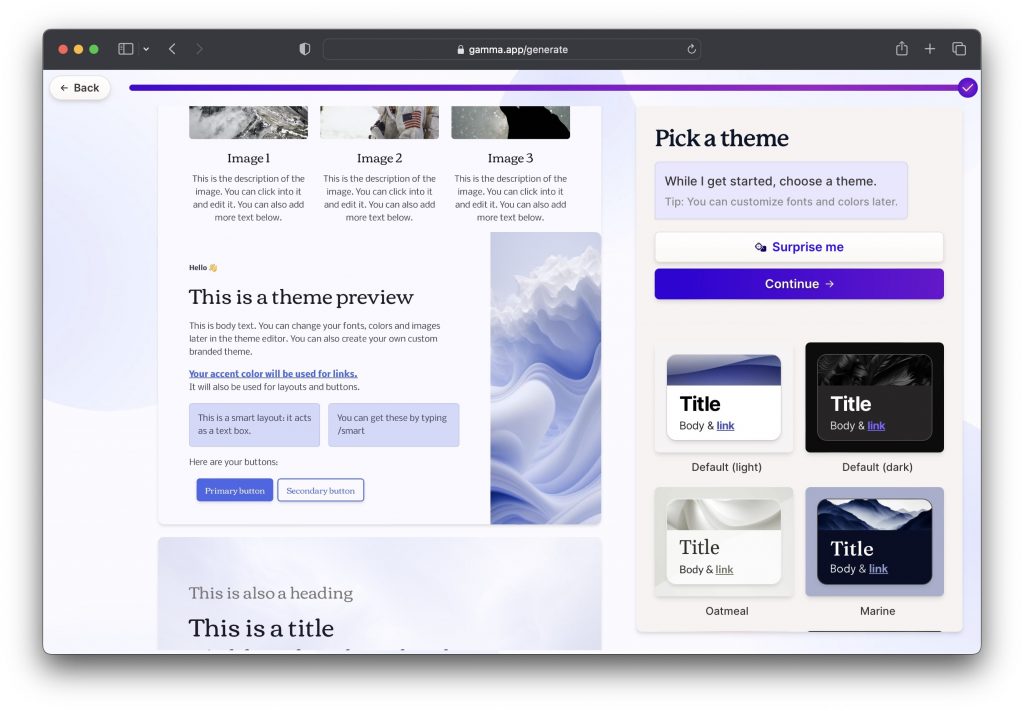 Step 5: The AI will generate your presentation on the fly.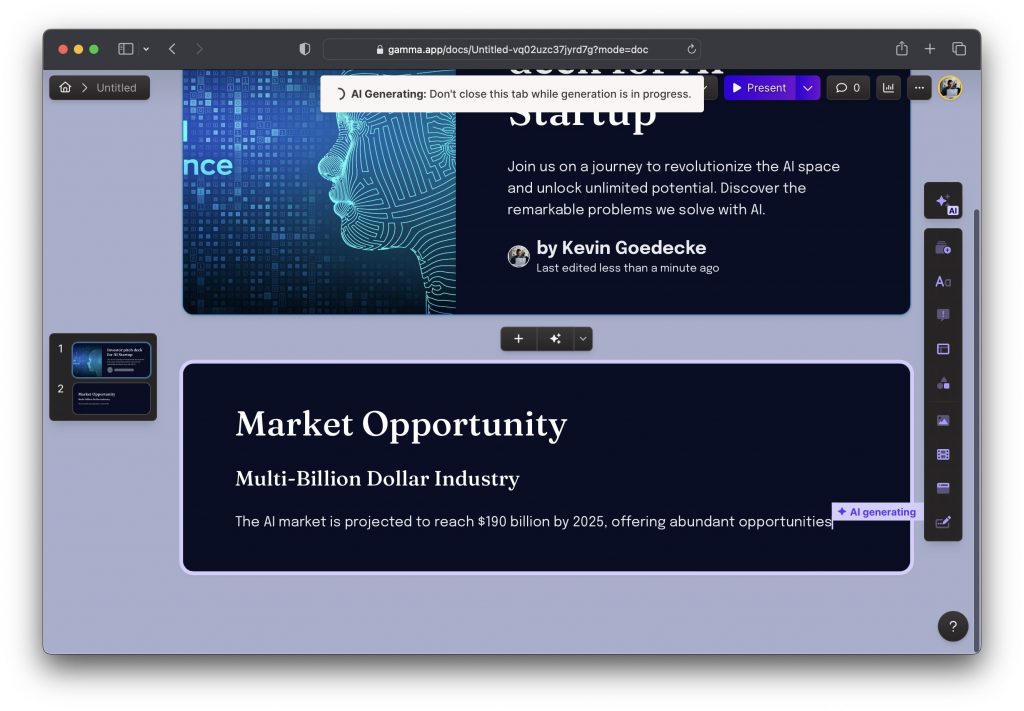 Beautiful.ai Overview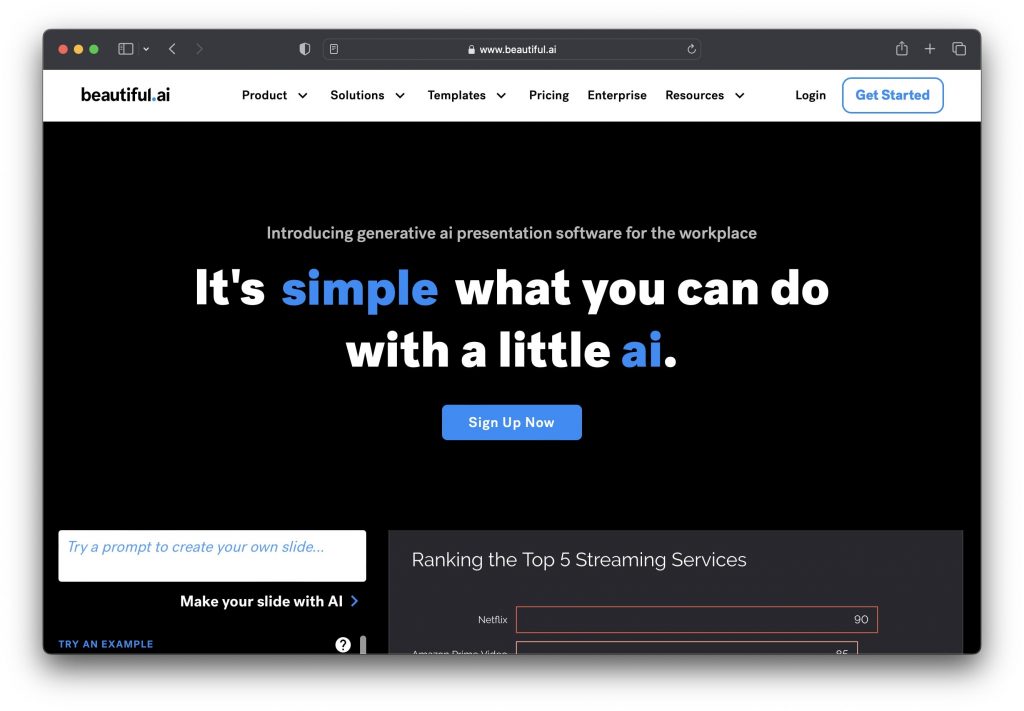 Beautiful.ai markets itself as "presentation software for everyone" that makes ideas look brilliant in minutes. It focuses on providing beautiful templates and easy customization for non-designers. That being said the AI functionality of Beautiful.ai is very limited. There is no chat bot that can modify your presentation nor is there any AI generated content. Beautiful.ai seems more like an easy-to-use tool with smart content blocks rather than an AI that generates the entire presentation.
Key features:
Hundreds of professionally designed presentation templates
Drag-and-drop editor for simple tweaks
Tools to visualize data as charts/graphs
Animation options for lively slides
Presentation Team collaboration capabilities
Export presentations to PowerPoint format
Ideal for: Individuals and teams wanting to quickly create polished, branded presentations
Generating an example presentation with Beautiful.ai:
Here's a Step-by-Step guide on how to create a simple presentation with Beautiful.ai.
Let's walk through how to quickly create an investor pitch deck from scratch using Beautiful.ai.
Step 1: Open Beautiful.ai and make an account. Currently they don't offer a free version but you can sign up for their 14 day free trial.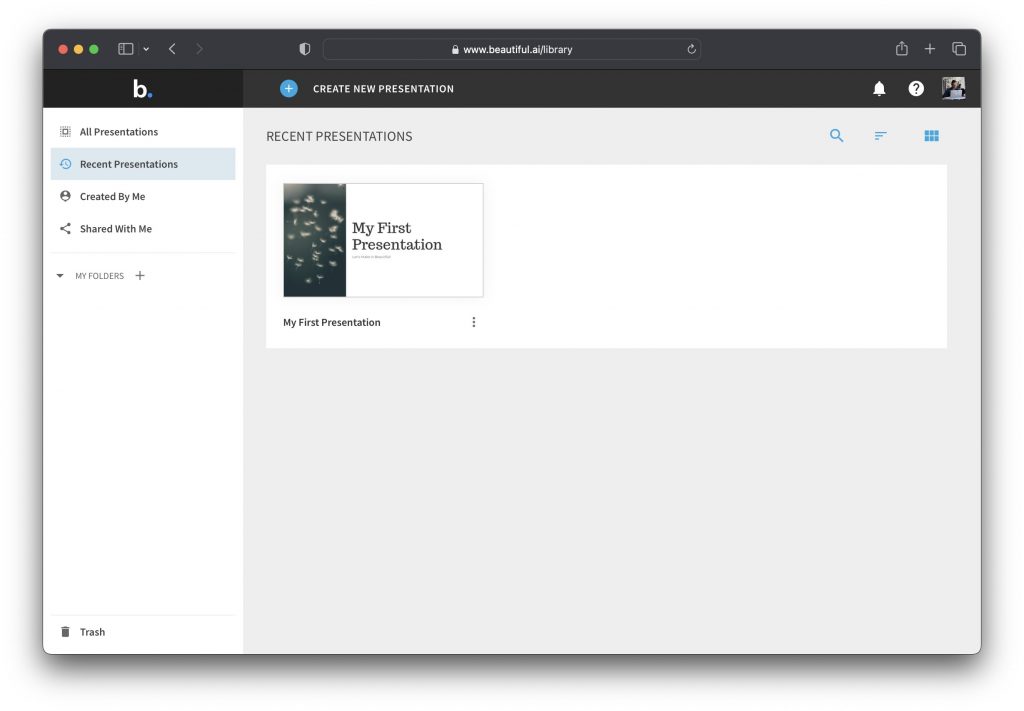 Step 2: Browse the presentation templates and select one that fits your industry and needs.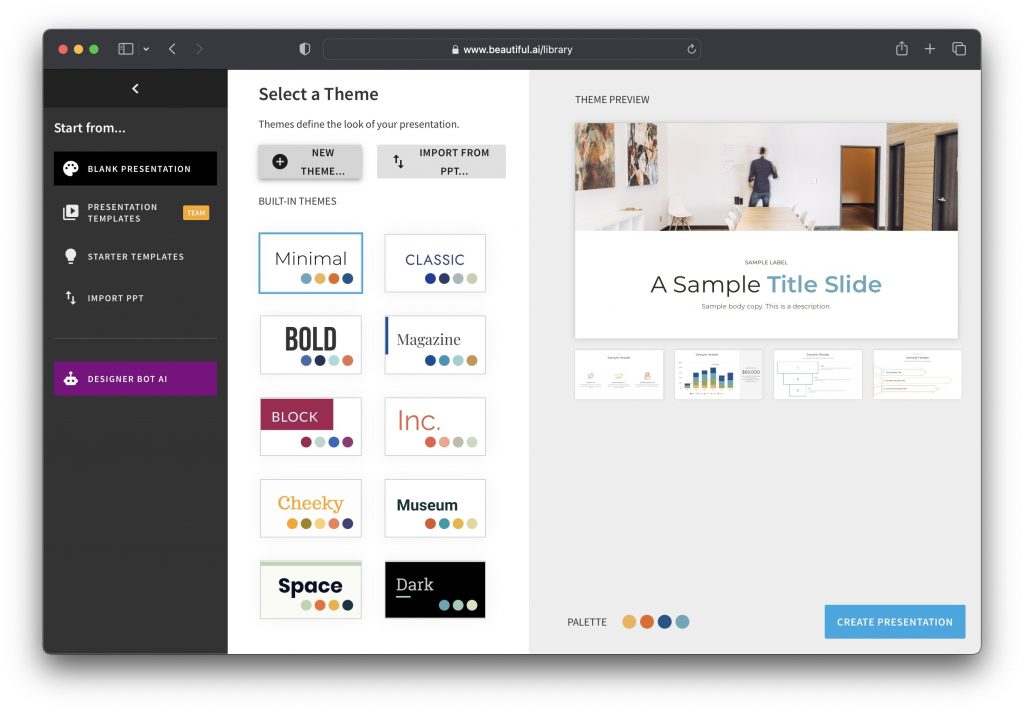 Step 3: Add your first presentation slide by clicking "Add Slide"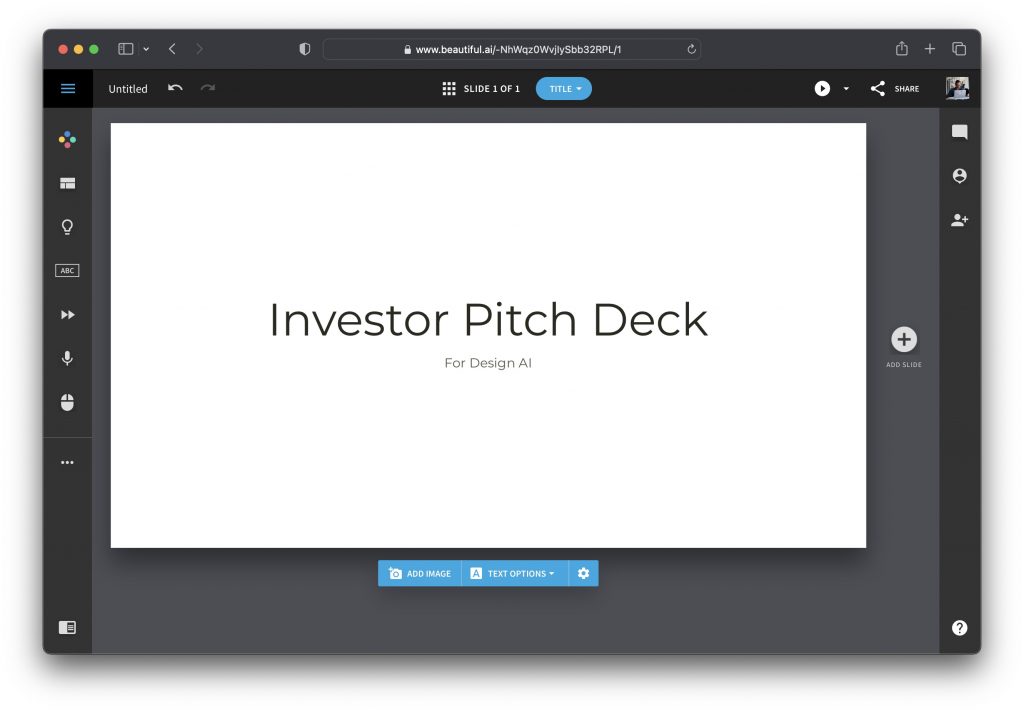 Step 4: Edit placeholder text on slides to tell your company's unique story.
Step 5: Pick from a variety of content elements like bullet lists, text boxes, icon list and so on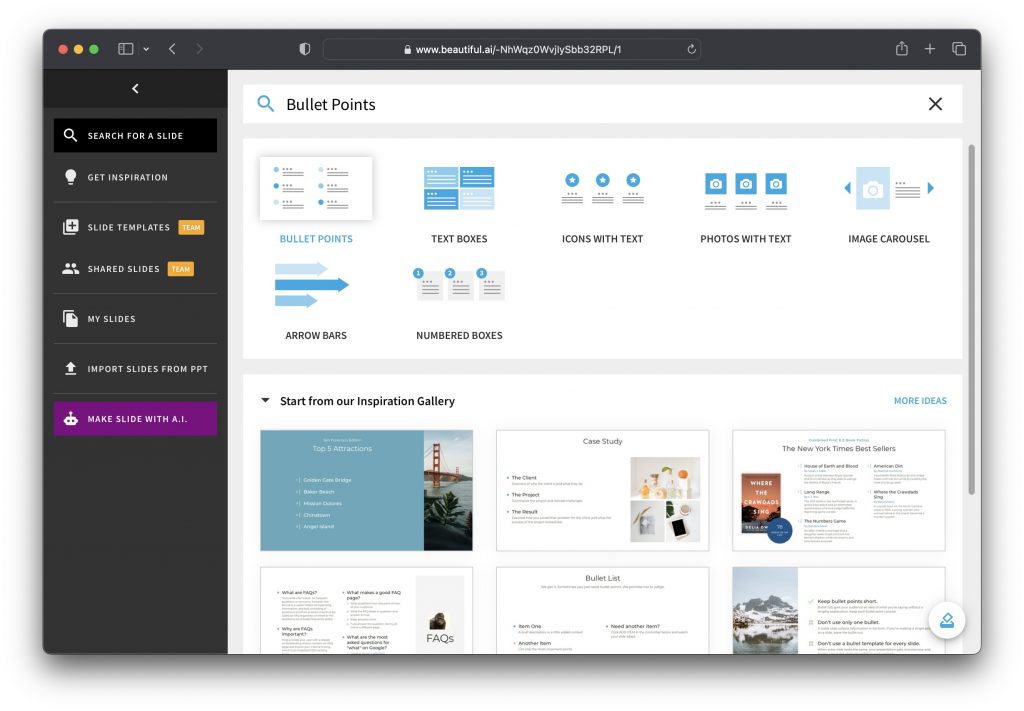 Step 6: Easily adapt your elements and switch between different content elements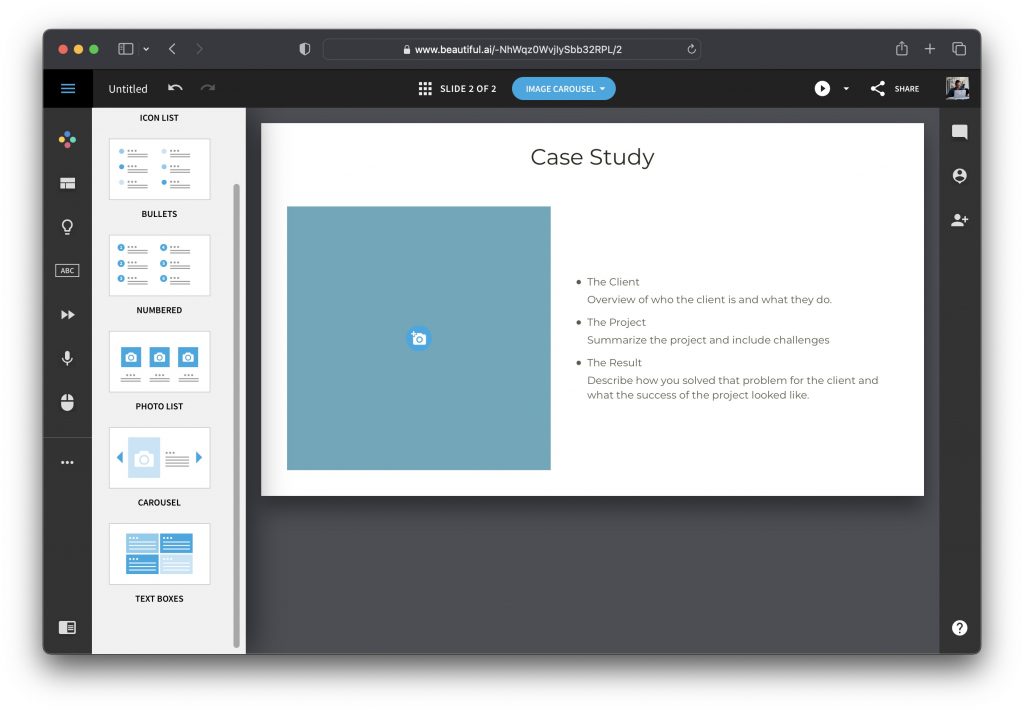 Key Differences
While both tools utilize AI to accelerate presentation design, here are some main differences:
Beautiful.ai emphasizes templates and drag-and-drop editing while Gamma.app generates presentations automatically from text you provide.
Beautiful.ai has more immediate design customization while Gamma.app's design capabilities are driven by its AI engine.
Beautiful.ai enables PPT export and team collaboration while Gamma.app offers analytics and a range of sharing options.
Beautiful.ai has a simple pricing structure starting at $12/month while Gamma.app pricing starts at $8/month.
In summary, Beautiful.ai gives more direct design control for users to craft presentations. Gamma.app automates more of the process, allowing you to provide content and generate decks.
The choice comes down to your specific needs and level of design skills. Beautiful.ai is ideal for easily creating visually cohesive, branded slides. Gamma.app excels at turning content into presentable decks with minimal effort. Both can save hours of work through the power of AI.
So if you're looking for a fast way to take your ideas from drab to fab, these AI-powered platforms have you covered. Give them a try to supercharge your next presentation!
Summary
Gamma.app automatically generates presentations from content you provide. Beautiful.ai focuses more on customizable templates.
Gamma.app offers robust analytics while Beautiful.ai has better direct design editing capabilities. 
Gamma.app has simpler pricing starting at $8/month for individuals. Beautiful.ai starts at $12/month.
For teams, Gamma.app is $15/user/month. Beautiful.ai is $50/user/month.
Both leverage AI to accelerate creating presentations, but have different strengths based on specific user needs.