Comments Off

on Generate PowerPoint with AI from any Word document
Generate PowerPoint with AI from any Word document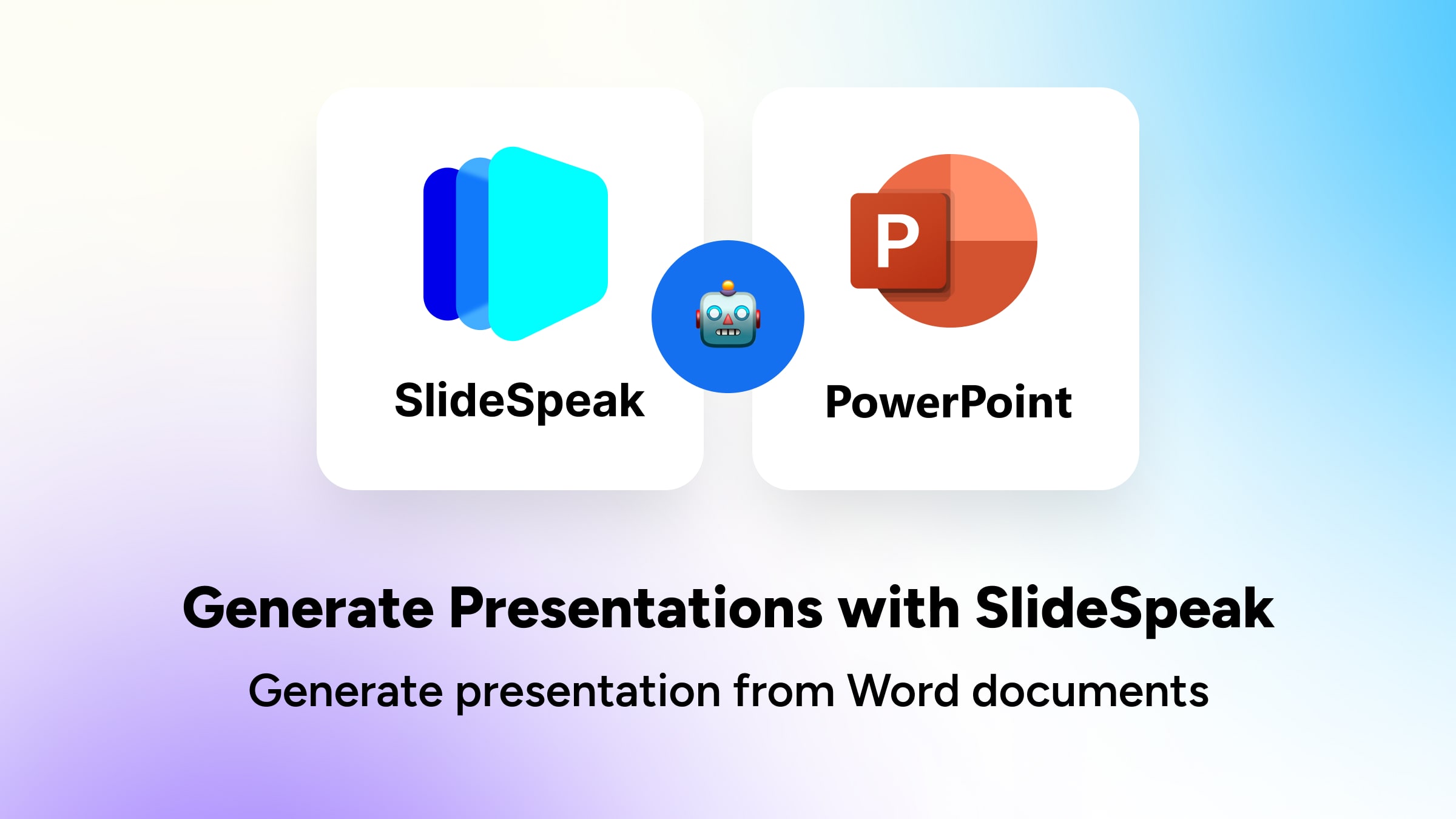 We are excited to announce a new feature that allows you to generate PowerPoint presentations from any Word document! SlideSpeak uses the latest AI technology to analyze the content of your document and design professional slides for you.
In this post, we'll walk through how to use this new feature step-by-step. Soon you'll be creating stunning presentations with just a few clicks!
Microsoft itself has released a bunch of content around its new AI Copilot feature. In the most recent video they have talked about AI is going to change how we all work with PowerPoint, you can check it out here.
How generating PowerPoint with SlideSpeak works
Here is an overview of how SlideSpeak can turn your Word content into a PowerPoint presentation:
Upload Document: Upload your Word doc to SlideSpeak.
Review Document: See the document in the SlideSpeak interface. In chat, you can ask the AI questions about the content.
Generate Presentation: Click the "Generate presentation" button to start creating the PowerPoint.
AI Generates Slides: SlideSpeak's AI will analyze the document and design slides based on the content. This may take a few minutes.
Preview & Download: View a preview of the generated presentation and download the PowerPoint file.
Here's a more detailed step-by-step tutorial:
Let's go through this process step-by-step to see just how easy it is to create a PowerPoint presentation with SlideSpeak's AI.
Step 1: Upload Your Document
Head over to the SlideSpeak App and upload your Word document. You can do this by clicking the upload button on the homepage and selecting your file.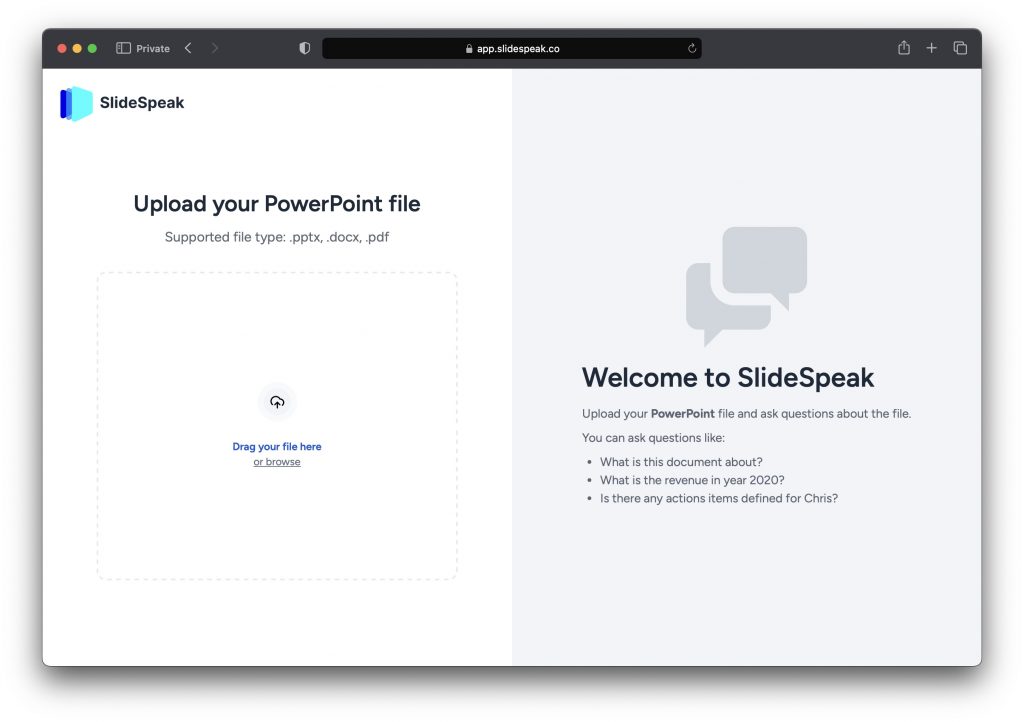 Once uploaded, you'll see the content of your document appear in the SlideSpeak interface.
Step 2: Review the Document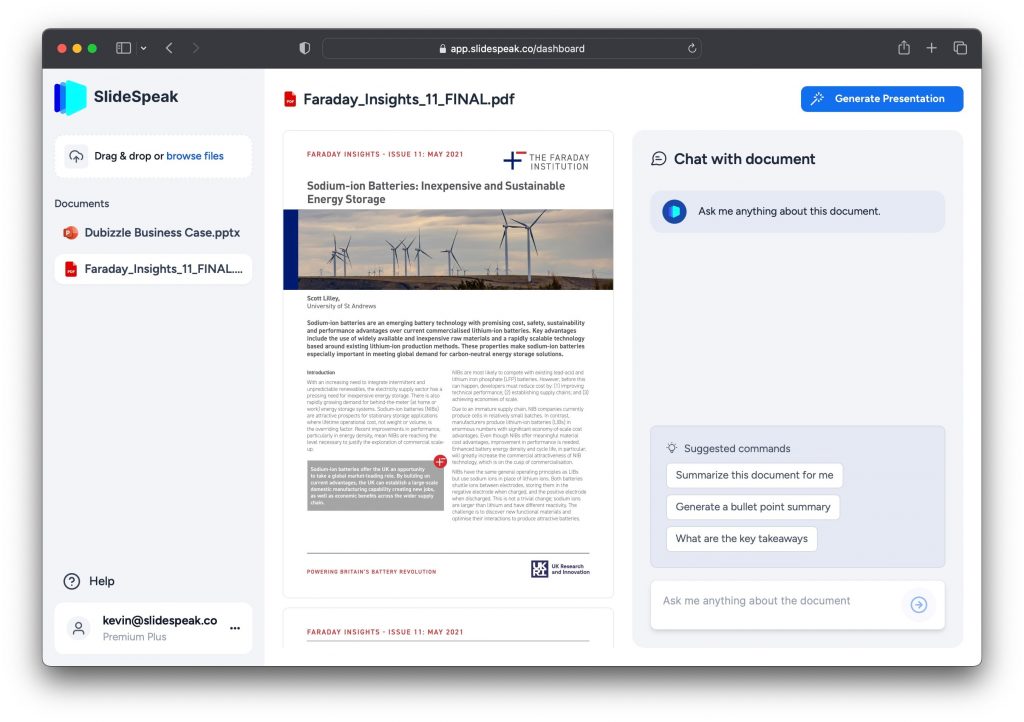 Now you can quickly review the document and get familiar with the content. If you have any questions, you can chat with SlideSpeak's AI assistant in the sidebar.
Ask things like:
What are the key points in this document?
Generate me a summary for this document?
How should this content be structured for a presentation?
The AI will provide helpful recommendations to improve the generated slides.
Step 3: Generate the Presentation
Once you're ready, click the "Generate Presentation" button at the top right of the screen.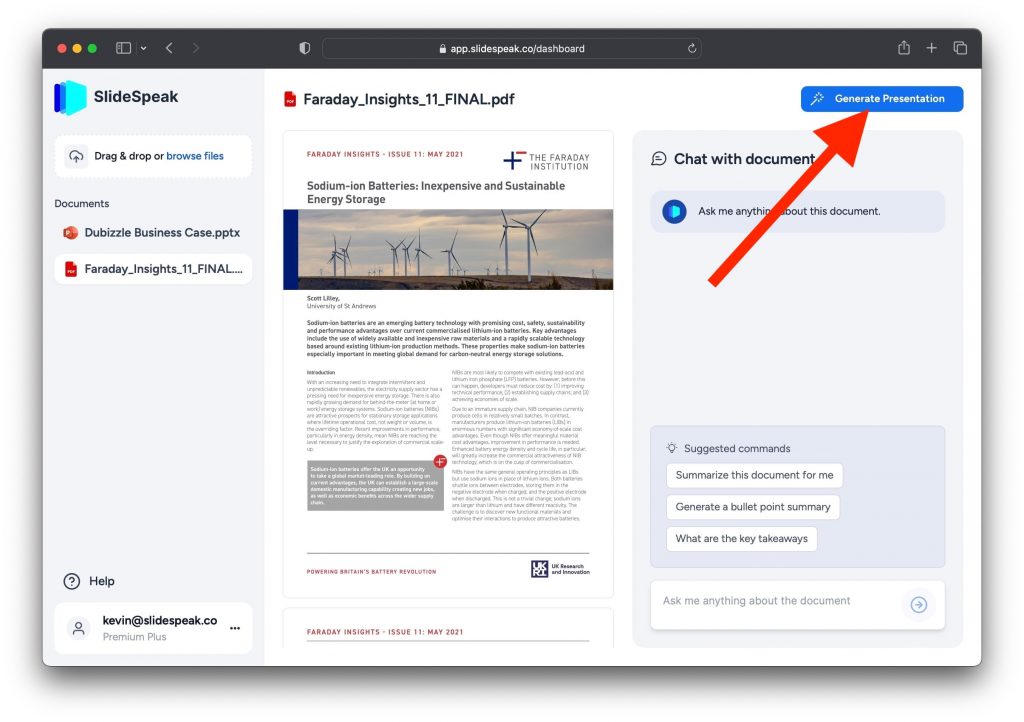 A dialog will pop up to confirm you want to start generating the PowerPoint. Click "Proceed"!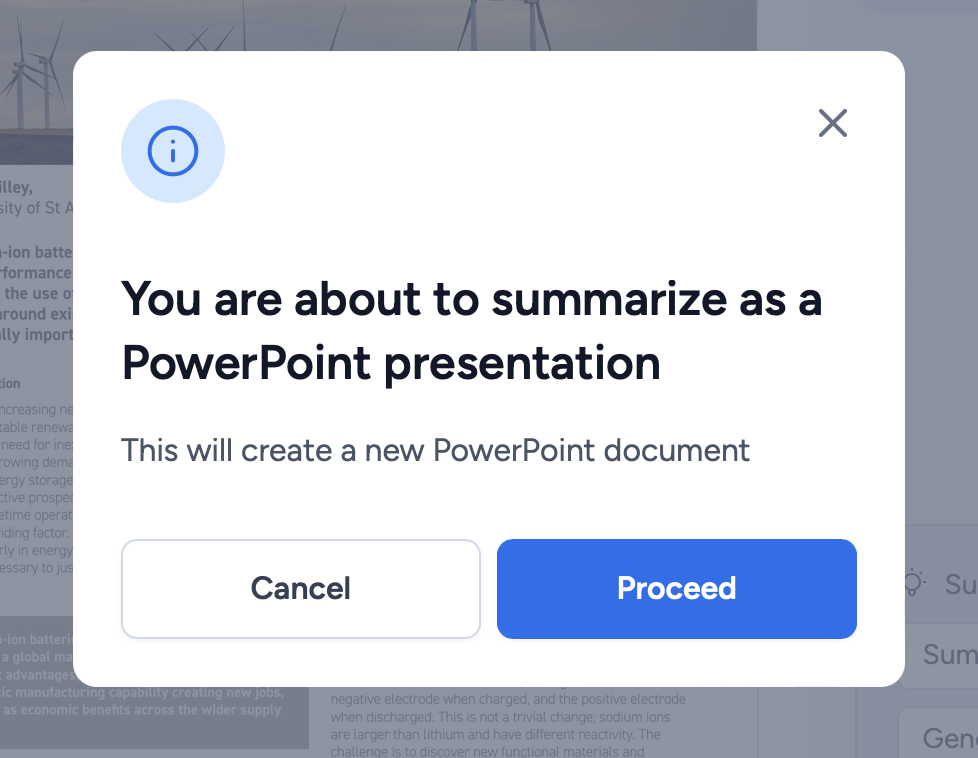 Step 4: AI Generates Slides
Now SlideSpeak's AI technology will get to work analyzing your document and automatically designing professional PowerPoint slides. This may take a few minutes depending on the length of your document.
You'll see a progress bar that keeps you updated on the status. Sit back and let the AI do the heavy lifting!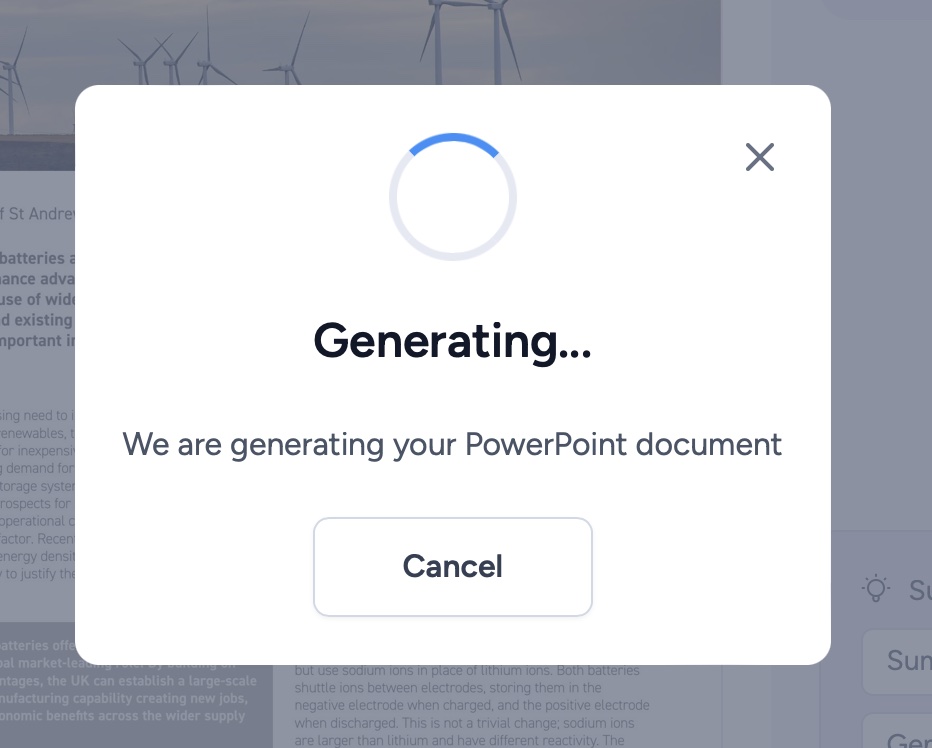 Step 5: Preview and Download
In just a few minutes, your new PowerPoint presentation will be ready! SlideSpeak will show you a preview of the slides the AI has designed.
You can flip through them to see how the AI extracted key points from your document and created stunning slides. If you'd like to make any tweaks, you can edit the slides here.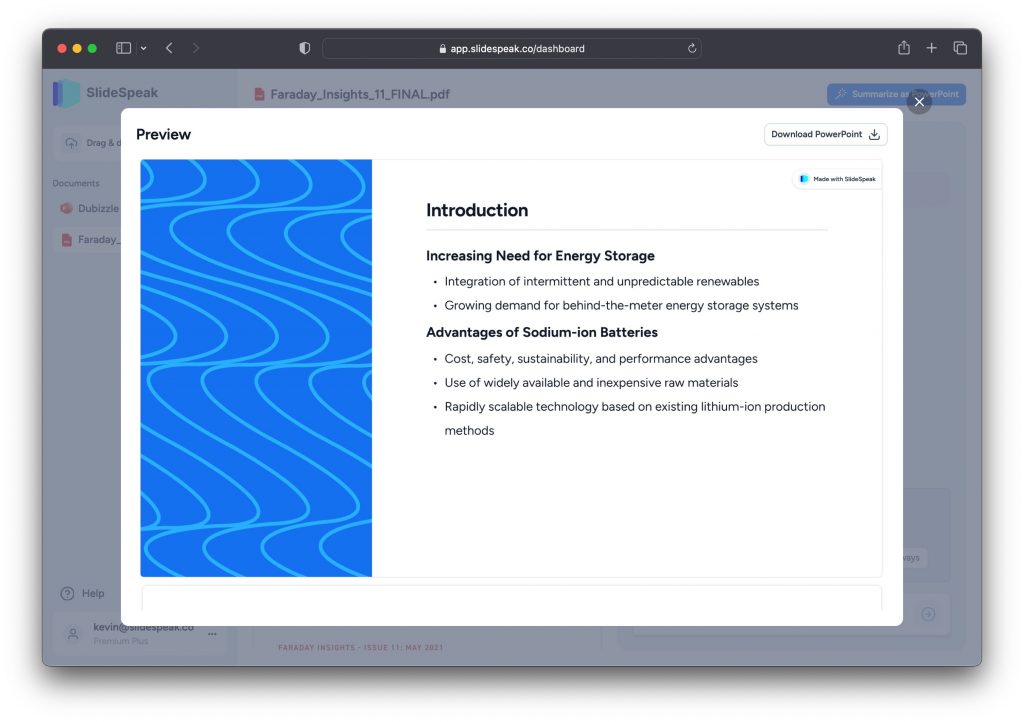 When you're satisfied, click the download button to save the PowerPoint file to your computer.
Note: Downloading the full PowerPoint file is currently only available for paid SlideSpeak plans. On our free plan you can preview the slides online and download as images.
And that's it! In just a few easy steps, SlideSpeak has turned your Word document into a professional, on-brand PowerPoint presentation thanks to the power of AI.
Conclusion
Generating PowerPoint slides from Word documents is a gamechanger for creating presentations quickly and easily. SlideSpeak makes it simple to upload your content and let advanced AI design the perfect slides for you.
With this new feature, you can now instantly convert your existing content into presentation decks that look fantastic. No more starting from scratch or wrestling with slide layouts in PowerPoint!
Try out generating AI-powered presentations from your Word files today with SlideSpeak!
FAQs
What file formats can you generate a presentation from?
Currently, SlideSpeak supports generating PowerPoint presentations from Word documents (DOCX files) and PDF files. Simply upload one of these file types to have our AI technology design slides based on the content.
Do you also support generating presentations for Google Slides?
Not directly, but you can easily transfer a generated PowerPoint file to Google Slides. First, generate the presentation in SlideSpeak and download the PowerPoint file. Then head over to Google Slides and go to File > Import, selecting the PowerPoint file to bring it into Slides. See this help article for step-by-step instructions.
Are there any other designs for the generated presentations?
Right now our AI uses one professional design template to generate the slides. We plan to add support for more slide templates and customization options in the future, but for now it's a clean, modern template.
Can you directly generate PowerPoint presentations with ChatGPT?
No, ChatGPT is a conversational AI that only handles text interactions. It does not support uploading files or generating slide decks directly. SlideSpeak uses more advanced AI technology tailored for powerpoint generation from documents.
Let me know if you would like me to expand or modify the FAQ section in any way. I'm happy to add more questions and answers as needed!
How long does it take to generate a presentation?
The time it takes to generate a PowerPoint presentation depends on the length of your uploaded Word/PDF document. For a 10-15 page document, expect it to take around 5 minutes. Longer documents with 50+ pages could take 10-15 minutes to generate slides. You'll see a progress bar after clicking the generate button so you know the status.
For a quick summary of your documents you can also just use our AI summary feature, check it out here.
What elements from my document will be converted into slides?
Our AI will analyze headings, text paragraphs, images, tables, and lists in your document. It identifies key points, summaries, and data to structure into individual slides with appropriate text, bullet points and visuals. The goal is to capture all the important information and structure it effectively for a presentation.