Comments Off

on How to Summarize PDFs with GPT for FREE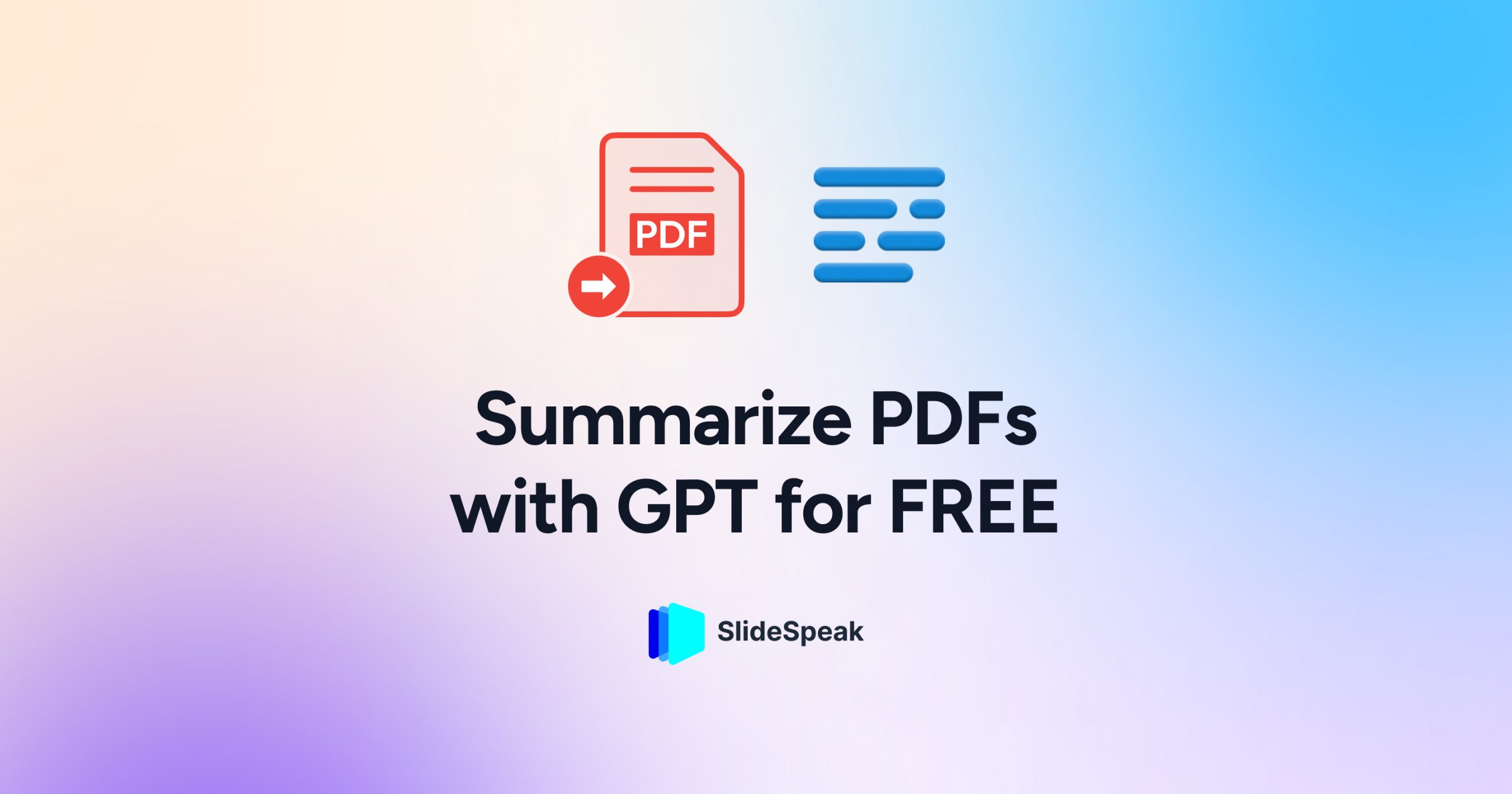 Summarizing long PDF documents can be very tiring and time-consuming. It's no longer a secret that AI tools like OpenAI's GPT are perfect at tasks like that and provide an easy answer to the question of how to summarize PDFs with GPT and AI. In this post we provide an actionable step-by-step guide to summarize PDFs directly with GPT. We will also look at two other options that allow you to summarize PDFs with AI for FREE.
At its recent DevDay on November 6th 2023, OpenAI unveiled some major updates. Those updates will make AI even more accessible. The highlights of the conference include a no-code way to build AI assistants, direct PDF summarization (amongst other document formats) through uploads to ChatGPT, and most notably, the launch of a marketplace GPT applications. This new GPT marketplace will function similarly to an app store, enabling developers to publish GPTs and earn revenue through a split of user payments. By facilitating the creation and distribution of customizable GPTs, while also providing a built-in monetization system, OpenAI aims to spur innovation and increased utilization of its generative technologies. The seamless document summarization and no-code assistants will further lower barriers to leveraging the power of models like GPT-3.
PRO TIP: Use SlideSpeak to summarize PDFs with GPT for FREE
Common Questions
Is it possible to directly upload PDFs to GPT?
Yes, you need to enable "Code Interpreter" for that. See the steps below on how to do that. Note: This feature is only available on paid plans of GPT.
Can GPT summarize PDFs?
Yes, with the new "Code Interpreter" beta feature, you can upload PDF, Word and other documents directly in Chat GPT. Please note PDF upload is only available on paid GPT plans.
Are there free tools to summarize PDFs with Chat GPT?
You can't summarize PDFs with GPT directly on the free plan. But you can copy & paste the text into GPT, or use an alternative free service like SlideSpeak.
Step-by-step guide on how to summarize PDFs with GPT
Cost: Not Free, only available with GPT Premium
Step 1: Open Chat GPT
Go to https://chat.openai.com/ and sign into your Chat GPT account.
Step 2: Enable Code Interpreter in the Beta menu
To do this click on the three dots in the bottom left menu and then select "Settings & Beta".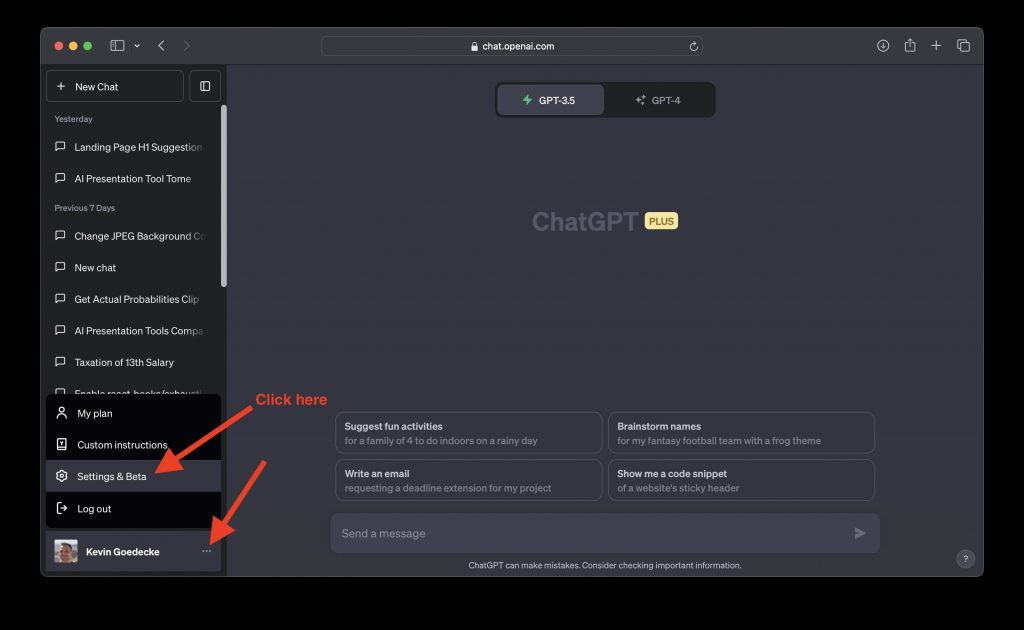 Afterwards click on "Beta Features" in the new popup.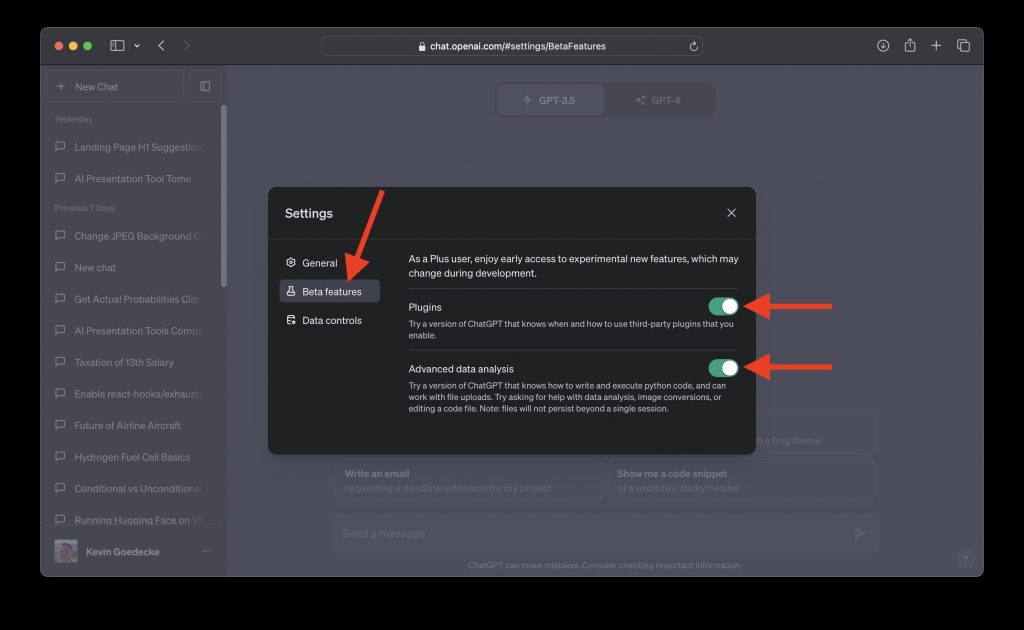 Enable now both options for "Plugins" and "Advanced data analysis". This will enable "Code Interpreter" in your Chat GPT which is needed in order to upload PDF files directly to ChatGPT.
Now close the popup.
Step 3: Enable GPT-4 and Advanced Data Analysis
Hover over the GPT-4 tab in your Chat GPT interface and then select "Advanced Data Analysis".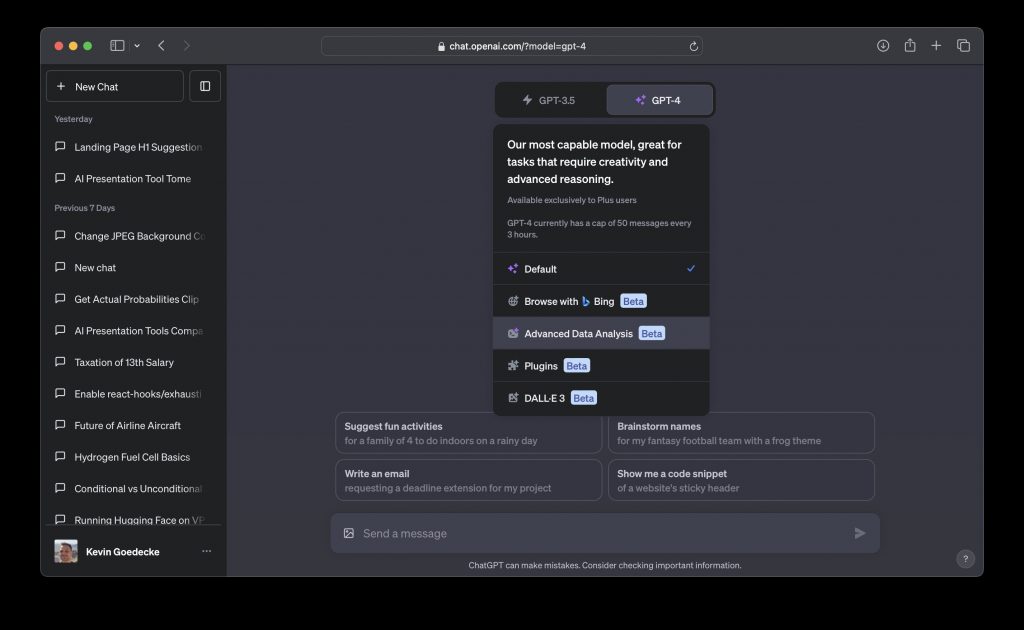 Step 4: Upload PDF to GPT
You should now see a little "+" icon next to your chat input field. Click on it and select your PDF file that you want to summarize.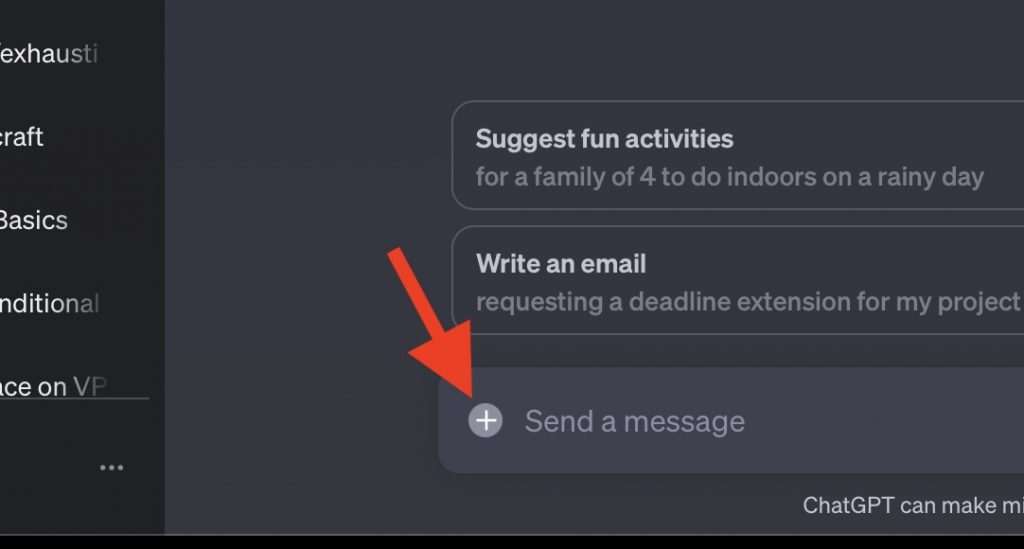 Step 5: Prompt GPT to summarize the PDF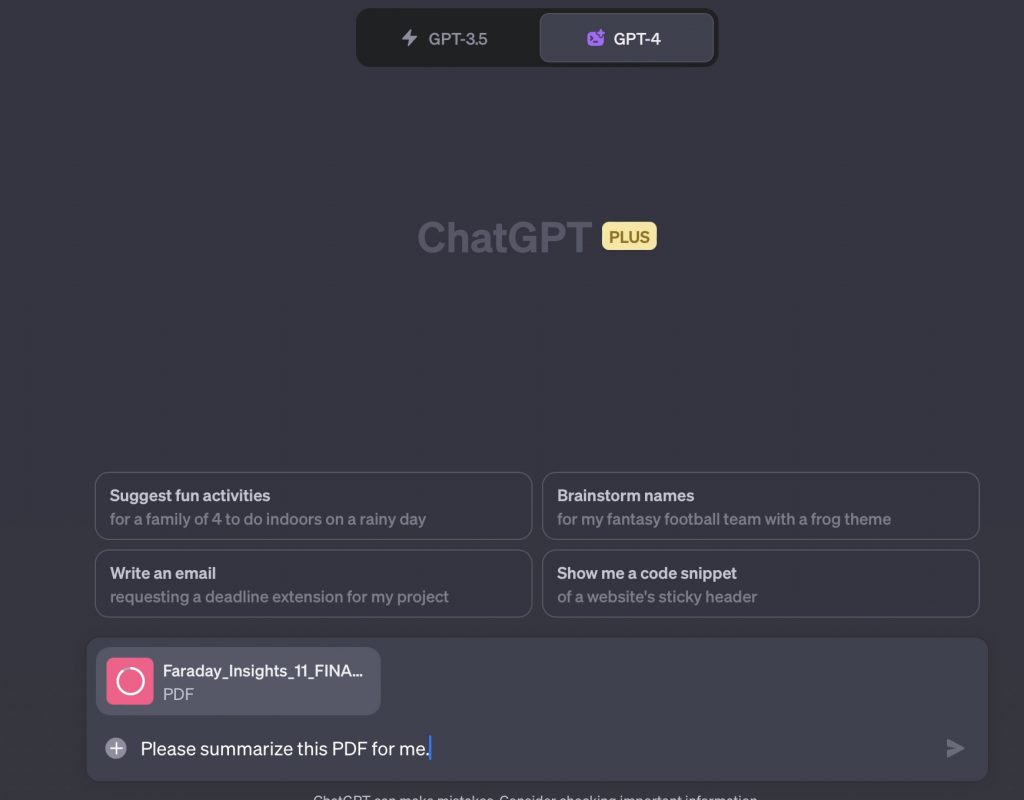 Thats it you should now see the summary of your PDF show up in you chat.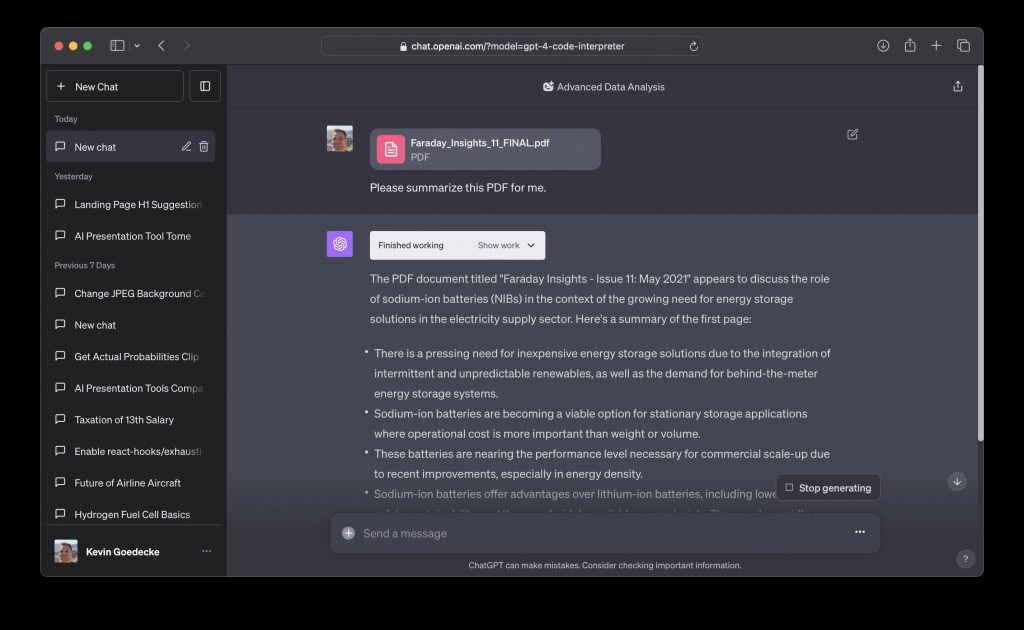 Step-by-step guide on how to summarize PDFs with Claude.ai
Cost: Free, but only available in UK and USA
Claude.ai is another AI tool by Anthropic. Even though Claude does not have the popularity its heavily backed by Google. A recent investment of $2 billion dollars from Google in Anthropic gives a clear signal that Claude will be one of the most promising AI tools in the market.
Unfortunately Claude is only currently available in the UK and the US. If you're fortunate enough to live in one of those two countries then you can sign up for Claude for FREE.
Let's have a look at how Claude can summarize a PDF:
Step 1: Log into your Claude account
Go to https://claude.ai/chats and log into your account. If you haven't signed up yet, sign up. Note: A US or UK phone number is required to sign up for Claude AI
Step 2: Upload your PDF file to summarize
Click on the paperclip icon and select your PDF file.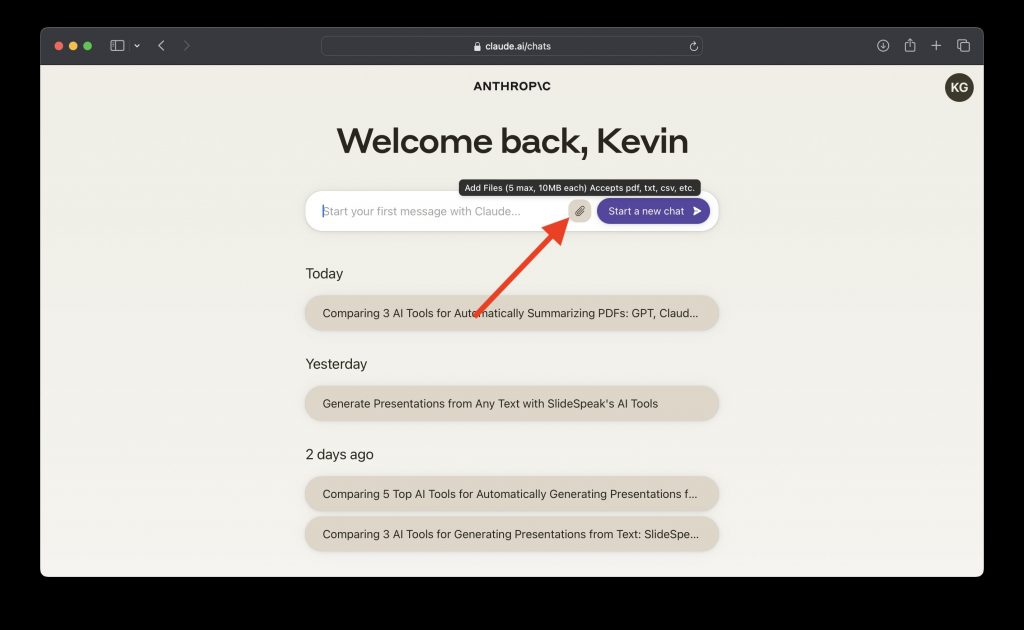 Step 3: Prompt Claude to summarize PDF
Simply type in a quick prompt to instruct the AI to summarize your PDF document. Here are a few examples:
Summarize this PDF document attached for me
Can you generate a bullet point summary of the PDF attached for me
Generate a 4 sentence summary of this PDF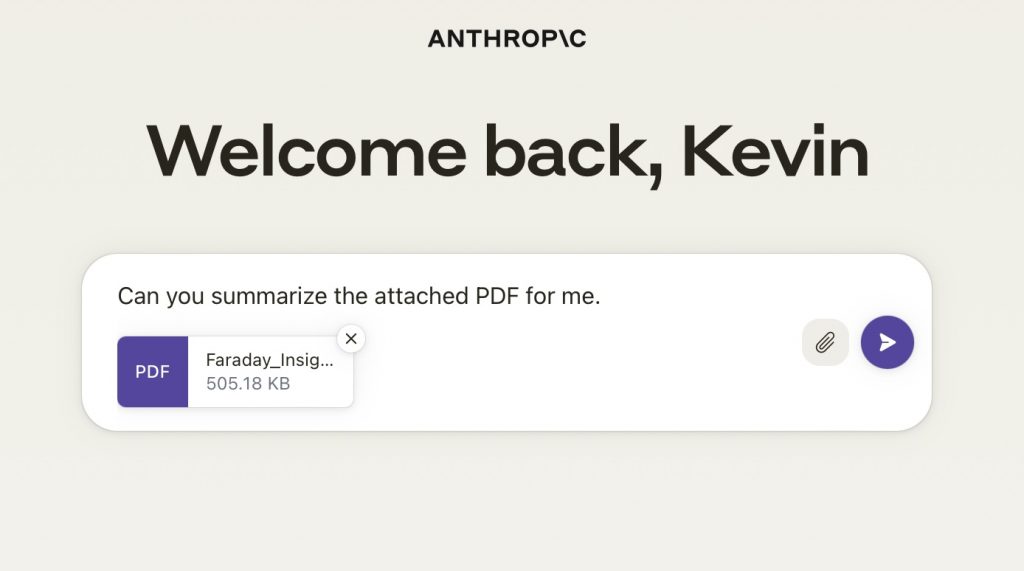 Step 4: Get your PDF summary
As you can see the Claude will start right away to summarize your PDF. The results are very impressive.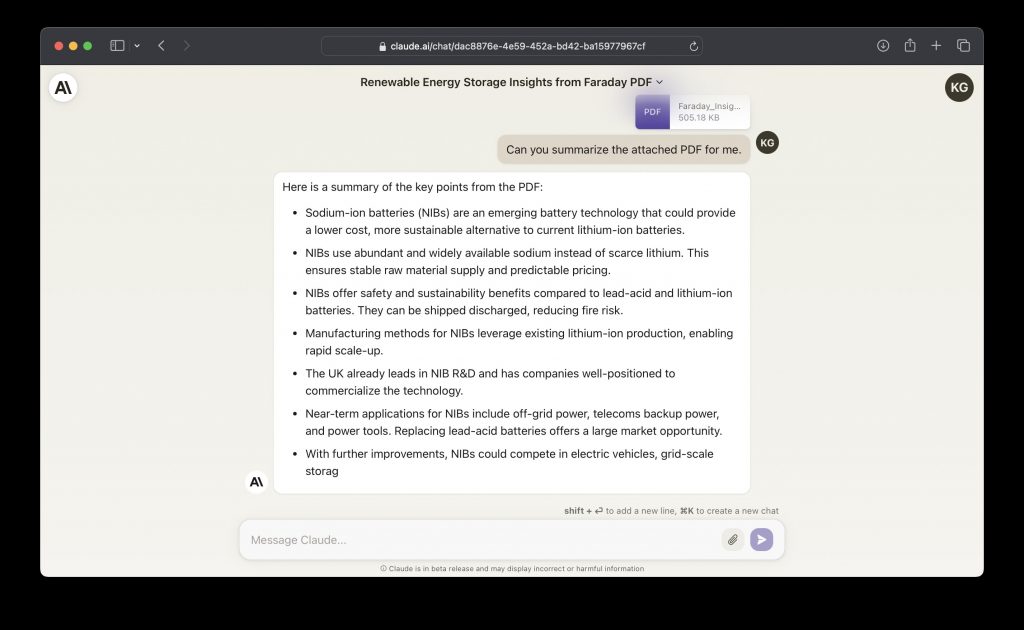 Conclusion
In closing, both GPT and Claude offer easy pathways to summarizing PDF documents quickly and accurately. With Chat GPT, simply upload your PDF to the chat interface and prompt it to return a concise summary. Though you may incur some cost for longer documents. Meanwhile, Claude can digest uploaded PDFs into summarized form completely free during its current beta period. The steps are straightforward with both tools – upload your PDF, customize your summarization prompt, and let the AI condense the key info into readable paragraphs. Leveraging these AI summarization abilities can save huge amounts of time and effort otherwise spent painstakingly poring over dense PDF materials. So next time you're facing down a lengthy document, let Chat GPT or Claude lend a hand! Their AI superpowers make light work of distilling need-to-know insights.
For summarizing presentation-style PDFs, Word documents, and PowerPoints, SlideSpeak AI is another solid option. With SlideSpeak, simply upload your presentation file and the AI will analyze each slide to generate a full transcript. You can then go through and edit the transcript to create a concise summary showcasing just the most vital information. The tool's specialization in parsing slides and text from presentation documents makes it uniquely equipped to condense the core content from files with this format. So SlideSpeak can be ideal for quickly extracting the essence from materials like lecture slides, corporate decks, academic papers, and more. When facing longer, presentation-heavy documents, be sure to consider leveraging SlideSpeak's AI as an alternative summarization route.